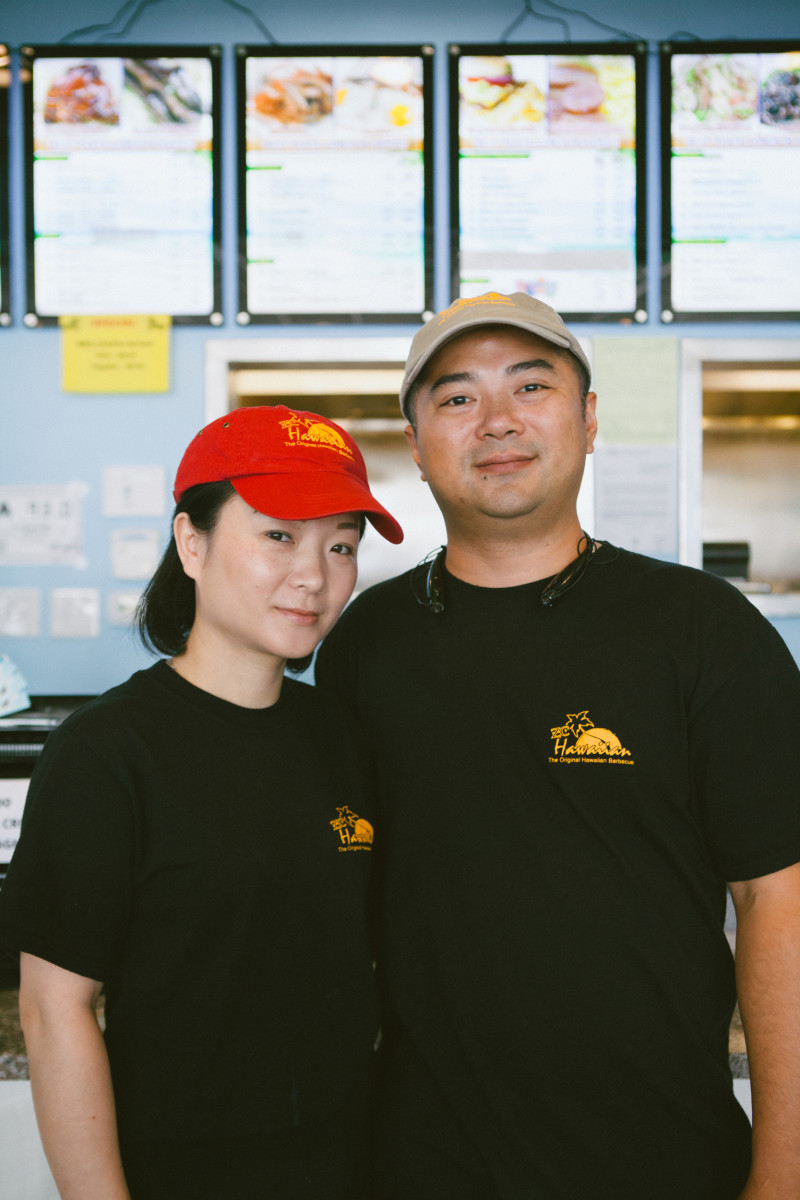 In North Carolina, barbecue is sacred. It evokes high passion and the drawing of lines in the sand among aficionados as to which is the best style— Eastern or Piedmont, vinegar or not, chopped or pulled, whole hog or shoulder, and the list goes on.
The debate about which style is best prompts year-round barbecue rituals, revivals, cook-offs and cookbooks devoted to the subject. In short, the nation is hog wild over barbecue – currently the number-one meat in America. And here in North Carolina, we are essentially a Barbecue Belt state.
To further stoke the flames of contention, the Triad's barbecue scene has a new 'cue to consider– ZC Hawaiian BBQ, owned by Benny Zeng. The eclectic island cuisine is a first for Greensboro.
A rich history lesson goes with each plate – the story behind Hawaiian barbecue and yes, the tale of the potted meat called "Spam." The concept is so new to the area that the restaurant published a short history lesson aka "Hawaiian barbecue primer" on its Facebook page. It explains that "Hawaiian BBQ often called plate lunch, or 'the state food of Hawaii,' dates back to the 19th century sugar plantations and pineapple fields.
The workforce was diverse consisting of Japan, the Philippines, China, Portugal, Korea, and some New Englanders. These workers often shared their lunch resulting in mixtures of the different cuisines." This explains rice and macaroni salad co-existing on the menu.
On the night I arrive to try my first Hawaiian barbecue, Benny is busy with customers – ringing up orders and helping in the kitchen. His son is doing his homework and stops to answer the telephone for Benny. His daughter has earphones on. Hawaiian music is playing on the sound system and the mood is relaxed.
I notice a group of women who are having way too much fun eating, and I walk over to see what the fuss is about. The friendly trio – Janet Ditto, Donna Livingstone and Linda Subris – are the best PR team a Hawaiian restaurant could ask for. They have all lived and worked in Hawaii for decades as missionaries. Donna (32 years) and Janet (15 years) have since moved back to the U.S. and live in Greensboro. Linda is visiting and lives on Palau Island. She works in Kona, Hawaii.
"Sit down and join us," smiled Donna. I ask if they like the food and we are off to the races. They chorus in unity – "It is 'ono,'" which means delicious in Hawaiian. "We give it five stars," said Donna. "It is like what you would eat in Hawaii– this is truly authentic."
Chicken katsu is on Donna's plate – tempura-like treatment on tender chicken strips, and kalua pork and cabbage (popular at Hawaiian luaus). Janet is eating chicken katsu saimin (Chinese influence) which you can order with chicken or other meat. Saimin is soup made with fresh ramen noodles. Linda is happily noshing on barbecue chicken. For those who like variety, the barbecue plate aptly called the BBQ Mix is a combo of chicken, beef and short ribs. Dessert is Portuguese malasada or small cinnamon-dusted doughnuts with icing-like dipping sauce.
The trending Poke phenomenon (diced raw tuna with tomatoes, onions, spices, vinegar and lemon juice) is on the menu as a full-plate item or side. Kimchee, Korean spicy pickled slaw, is a popular side – think of it as an Asian version of American slaw. Tangy sauces come with various menu items or on the side. "The best sauce is katsu sauce for dipping," smiled Zeng. "It tastes like a combination of A-1 and barbecue sauce."
The diverse menu has grilled mahi-mahi and fried shrimp for seafood fans, or you can try Loco Moco, a highly favored dish in the Polynesian culture – a major protein kick with hamburger patty over rice covered with brown gravy and eggs. "A friend from Hawaii visited us recently and we brought him here," said Donna. "He nearly cried when he ate the Portuguese sausage – it was so good."
Then Linda orders one of the most talked about and curious items on the menu —Spam Musubi —to-go.
Musubi is rice, a meat choice and a wrapping of nori, the seaweed paper also used with sushi. Musubi made with Spam, the canned meat that most Americans grew up eating, initially raises eyebrows among those new to the cuisine of the islands. The history of Spam dates back to WWII in Hawaii and has a rightful place on the menu.
Today, Spam is such a staple in Hawaii that Spam Musubi is sold in convenience stores – an essential grab-and-go food. It is a well-stocked item in grocery stores and on many restaurant menus in the state that consumes more Spam than any other. To Linda and other islanders, it is pure comfort food. To Americans, it is nostalgia wrapped in a new package.
Working in restaurants is a thread that runs through Zeng's life – a man who clearly likes the business of preparing and serving ethnic food to diverse customers. His Chinese heritage came into play when he moved to Chinatown in Manhattan in the mid 90s. There he worked in a Chinese restaurant before moving to Niagara Falls where he opened his first restaurant in 1999. Ten years later he moved to Greensboro to be near family. He stayed in his comfort zone and opened his first restaurant here– a typical Chinese restaurant. Soon after, Zeng felt it was "too common," and wanted to serve food that was unlike traditional Asian."
"I visited my friend who had opened several L & L Hawaiian BBQ restaurants on the West Coast," said Zeng. "I thought Hawaiian barbecue was different and something I wanted to pursue." He went to Hawaii for three months to train at the well known "plate lunch" institution where he learned the art of Hawaiian barbecue. It was clear that the timing was right to bring the island food concept back to Greensboro. And, he would be the first to do so since there were not any Hawaiian barbecue restaurants on the East Coast.
"The hardest part was finding a good location and worrying that people might not like Hawaiian barbecue or even try it," said Zeng. His fears were soon put to rest with "lots and lots of good feedback, especially from Hawaiian locals who say it 'tastes just like home.'"
ZC BBQ's menu will entice newcomers to try cuisine of the islands but will comfort others with familiar food most Americans have grown up with – spam being one of them. The trio's happiness in finding their island foods in Greensboro tells the story of our newest immigrant owned restaurant. "Food is community in Hawaii," smiled Donna. And now, Hawaii's community is in Greensboro.