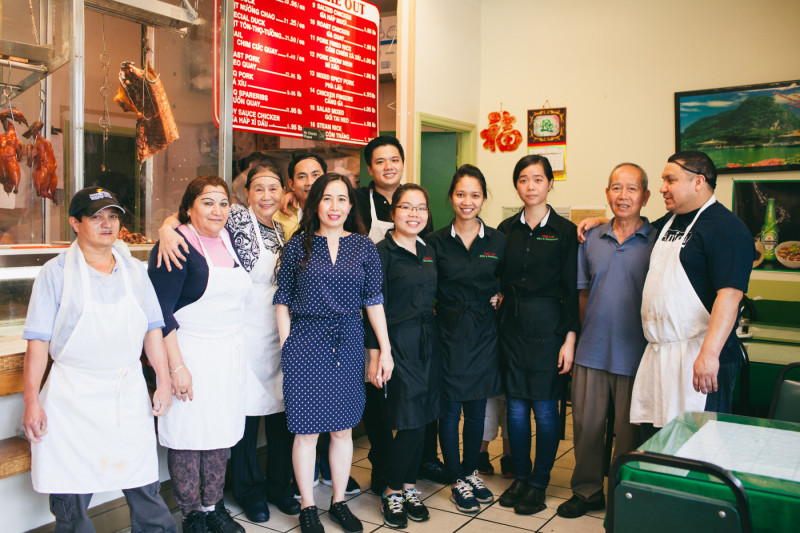 Trang Tran, the vivacious owner of Van Loi II, a Vietnamese restaurant on High Point Road, smiles as she describes all the difficult changes she has gone through in the past year.
She sold a business, moved to a new house, and put her three kids into a new school.
"When I was my daughter's age I didn't have anything," she says about her childhood in the mountains of South Vietnam.
Now, years later and on the other side of the world, she is a picture of style and success. She doesn't pressure her kids in one direction or another but tells them "whatever you become you need to be good at it."
And Tran is good at restaurants. She moved to the United States on July 4, 2000, to join her husband Nham Ho, who owned the original Van Loi in Charlotte, which exclusively sold take-out food. She saw the Greensboro restaurant and wanted to provide a warm family-style sit-down experience.
After her husband passed away unexpectedly 3 years ago, Trang was left alone to run the businesses. Many people doubted her and said she should sell everything. The buyout offers came in regularly. "I wanted to keep this store but I wanted to do it my way. I worked day and night," she says.
Her work has made the restaurant popular with foodies, who come from as far as Raleigh to taste from its unique and authentic menu. Van Loi II is well-known for its BBQ and roasted meats, and the store itself is actually separated into a dining room on one side and a takeout counter on the other.
The roasted meats have been a key to the restaurant's success. Van Loi II has a walk-in oven that's capable of cooking 2 pigs and 40 ducks at a time. On holidays like July 4 and Vietnamese New Year (which is the same as Chinese New Year) the oven roasts around the clock to provide BBQ for parties, events and individuals.
This core idea didn't come from Tran, who says she really didn't know how to cook before marrying her husband. Her mother-in-law had been a special events caterer in Vietnam, however, and taught her how to cook and run a kitchen.
Van Loi II's wide-ranging menu features deep flavors with fresh ingredients. Many come for the pho, the famed Vietnamese beef noodle soup, but there are also many dishes that emphasize the communal aspect of food.
You can make your own spring rolls with the bo cuon la lot, which features BBQ beef in betel leaves. You can also have the tom bo muc nhung dam, which is shrimp, beef and squid in a vinegar broth cooked at your tableside.
This experience of food is part of what makes Van Loi II beloved by many from Laos, Cambodia and Thailand looking a meal that feels like home. This experience is what many of us go to restaurants for. It's not just the taste of the food -- it's also about the feeling and community of it.
When I first moved to Greensboro from New York five years ago I worried about the food not tasting like home.
"Find the immigrants, you'll find good food," said my friend Francis Lam, a food writer and the son of Chinese immigrants. He asked about the "local" foods I loved in New York. Pizza? The Italians brought it over. Pastrami? The Eastern European Jews. Soup dumplings? Straight from Shanghai.
And what about my latest favorite food, the bo tai chanh - a refreshing beef lemon salad that's somehow both refreshing and hearty? Trang Tran brought it to Greensboro.