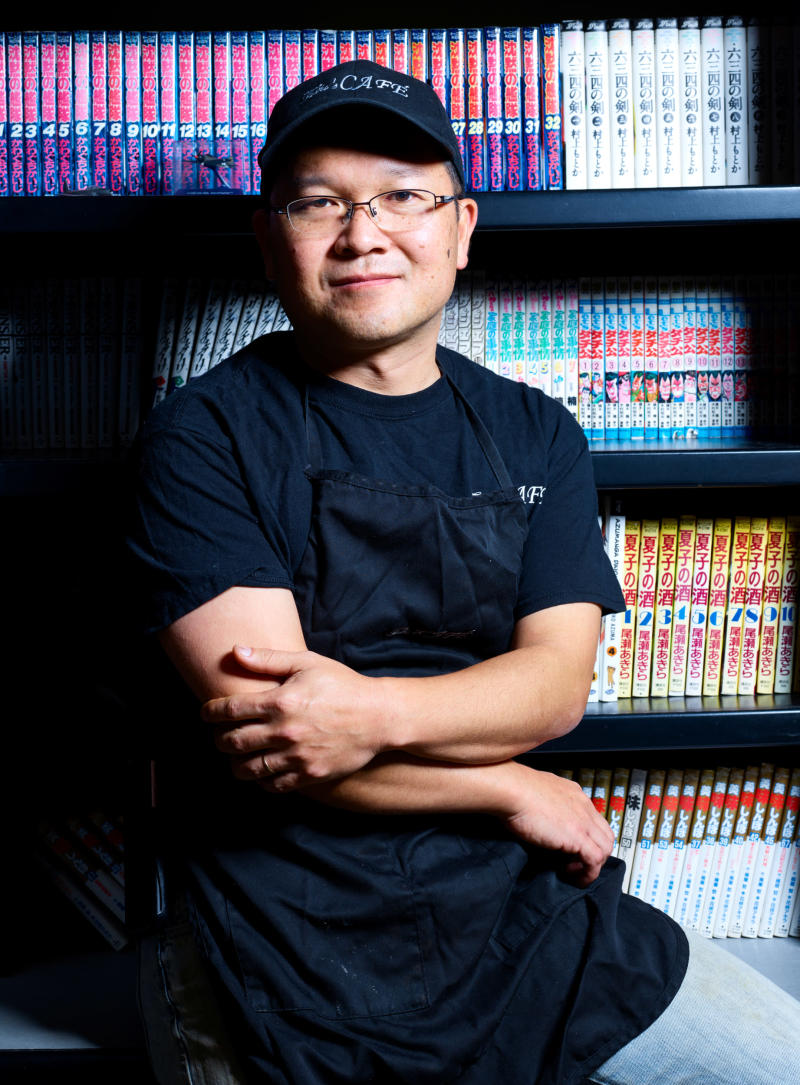 Toshi Yoshida is really excited for you to try his karaage chicken.
It's his favorite dish.
Pronounced kah-rah-geh, it's Japan's version of fried chicken. Toshi takes boneless chicken and marinates it in sake and soy sauce. It's then battered and fried, yielding a crisp outer layer of deliciousness that gives way to tender, juicy chicken.
Yoshida recently added it to the menu at Toshi's Cafe, his casual dining spot in the Adams Farm Shopping Center. It's served in a bento box, with salad and a California roll. The cafe serves gourmet coffee, sandwiches and sushi. Most of the coffee is roasted locally by Synchronicity Coffee Company. Sandwiches offerings are American classics - turkey, roast beef, toasted clubs, chicken and tuna salads on croissants and grilled veggie wraps. Most of the sushi rolls are a fusion of traditional Japanese ingredients like shrimp or crab tempura, eel or spicy tuna - enhanced with an American twist. Like bacon or Cajun seasoning. Some of his most popular rolls, like Crab Supreme and Katie's Delight (named after an employee), are deep fried.
In Japan, the title of sushi chef is prestigious and not awarded casually. Sushi chefs are generally male, and it can take as long as a decade to earn a spot in front of the board. Training begins with cleaning the kitchen and washing dishes, before advancing to cooking rice - a job that can last as long as two years. Yoshida doesn't require that at Toshi's. Women or men can prepare it, whether they are Japanese or not.
"I don't care who makes sushi," he says.
His relaxed attitude comes from an appreciation for the warm welcome and generosity extended to him since arriving in the U.S. 25 years ago. His grandfather, who served in the Japanese Navy during WWII, spoke often of the war.
"I liked him so much, I wanted to know what kind of country this was that defeated Japan," Yoshida says. "Now I understand. California is bigger than Japan."
Yoshida came to the U.S. with plans to bicycle from California to New York. He didn't quite make it by bike, but he did make it from coast to coast in about three months through the kindness of strangers. He worked for a church in Washington D.C. for about five years before moving to the Triangle area. He managed a flower shop in Durham and learned to make sushi at a Japanese restaurant in Cary.
Yoshida and his ex-wife moved to Greensboro in 2004 to open Coffee and Roses Express (across the street from his current location). He closed that business at the end of 2010 because of the widening of High Point Road. He opened Toshi's Cafe about a month later in the Adams Farm Shopping Center. Yoshida says a consistent base of loyal regulars carried him through the recession.
"Lots of people tried to help me, that's how I can make it at that time," he says.
This business philosophy also guides him: "Having an honest mind and a good heart is key to good food."
Yoshida says he learned this from his parents and his culture.
Which brings us back to that karaage chicken.
At 19, Yoshida got a job in a restaurant in Japan just so that he could eat there for half price. He ate karaage chicken every day. He even tried making it himself, but failed miserably.
"I lived in a terrible apartment, but the rent was cheap and I just used my small kitchen," he recalls.
He thought he followed the chef's instructions on how to prepare it, but the result was more like chicken tempura.
"After 20 years, I feel like I'm making the same karaage they were making," he says.