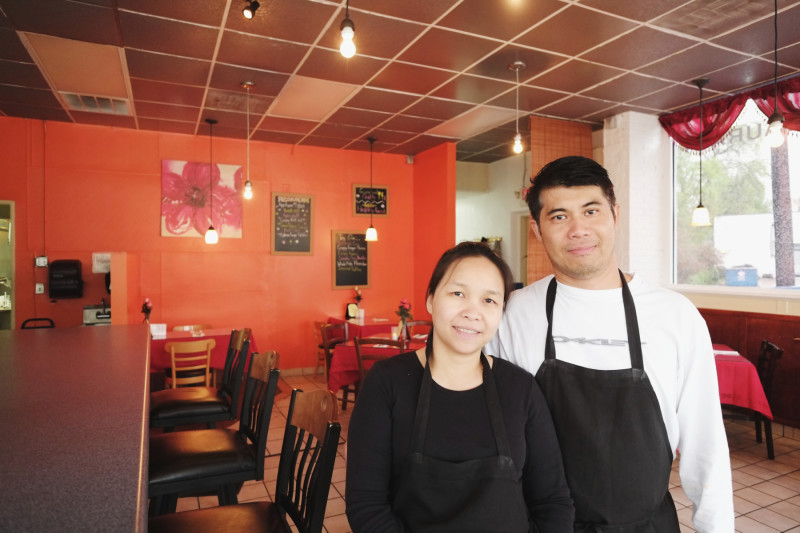 This is the kind of ethnic restaurant I like to frequent. Intimate. Unpretentious. Authentic.

Thai Corner Kitchen on High Point Road occupies a white building with blue trim. It's got a drive-thru window and a patio with a view of the road. It sits among a cluster of establishments that frequently come and go - restaurants and night clubs with a life span of a few years or less. It also faces Bill's Pizza Pub - a Greensboro institution until it closed in 2012 after 43 years in business at that same spot. That restaurant - and it's sign - still stands. Vacant. But Thai Corner Kitchen thrives in its absence. It's a southeast Asian oasis among the diners, fast food and chain restaurants along a stretch of roadway that leads to the interstate. The menu is so extensive, you could eat here every day for a month and still try something new. It's the only Thai restaurant in the city that offers my favorite - green papaya salad - daily. Fresh thin-sliced papaya over a bed of lettuce, with tomatoes, fresh basil and Thai chilis. The "dressing" is sweet, salty, tangy and spicy. Its appetizer selection also includes northern Thai sausage. Housemade ground pork is marinated and grilled.Then served with slices of fresh ginger and peanuts. Pork stick is another favorite among regulars. Grilled marinated pork with lemongrass is served with hot sauce.

Regular Chip Callaway is one of the restaurant's most vocal fans. The foodie is especially fond of southeast Asian cuisine. He frequents Thai Corner Kitchen three or four times a week. "There are so many places to dine in Greensboro, but very few places you can go and have supper," he says. Callaway, a landscape architect with an international reputation for his work, also recommends the restaurant to anyone with an interest in or love for Thai food. In graduate school, the Mt. Airy native spent a significant amount of time in London. That's where he discovered southeast Asian food. "I ate at a lot of Asian restaurants because it was what I could afford," he says. "London is full of good ethnic restaurants, and it's a good way to economize." Callaway raves about the soups at Thai Corner Kitchen. Healthy, flavorful soups that the owner, Timmy Vasasiri, doesn't mind customizing for diners. He can make dishes vegetarian or gluten and carb-free. "I'm always trying to lose weight," Callaway says. "I can go in there and get the most delicious spicy soups - that you can omit the noodles from - so you get steaming broth and vegetables." In warmer months, he favors salads and larb - chopped chicken with Thai spices, chilis, cilantro and lime. It's served over lettuce. The vegetarian version substitutes tofu for chicken. But Callaway doesn't always limit himself to soups and salads. "Of course I love to sin as well," he says. "I love the drunken noodles, Pad Thai. I love his appetizers. The spring roll is one of the finest versions anywhere. It's very very easy to go there and have an exquisite experience."
There's another reason why Callaway frequents Thai Corner Kitchen: the owners. Husband and wife duo Timmy and Tanyawat Vasasiri met at his mother's restaurant in Alexandria, Virginia.
Here's their story.
The Vasasiris have been married almost 13 years. You're more likely to see Timmy out front. His wife, the more reserved of the two, works mainly in the kitchen. A petite woman, Tanyawat makes the sauces and most everything else, Timmy says. When they initially opened the restaurant, Timmy had wanted it to be a takeout establishment only. He envisioned that people would order their food to go. But it became clear that customers preferred to dine in. Then he thought they might offer counter service. But customers waited for him to come to their tables. That flexibility and accommodating spirit that Callaway praises was tested from the start. Timmy became a waiter. And that's how people first came to know him. The dining room is inviting. Cloth covered tables are set with flowers, candles and menus. Colorful pictures of Thailand hang on vibrantly painted walls. The nature of the restaurant business is as familiar to Timmy as the food he serves. His family moved from Thailand to the U.S. when he was 16. His mother owned and operated her own restaurant - Thai Thai - in Alexandria, Virginia for 20 years. She's retired now. Timmy and his siblings grew up working in her restaurant, which was larger than the one he owns now. He tried doing something else. After his schooling, Timmy returned to Bangkok, Thailand to work in advertising. He was there for about five years. Then his mother called, asking him to return home to help with the family business. He did. And that's how he met Tanyawat.

The Vasasiris decided to leave Alexandria. It's a long story, Timmy says, but their choices were Houston or Greensboro. Houston was too far from family, and it wouldn't be an easy move. They visited Greensboro, found the restaurant space and moved here instead. It took some getting used to. They were accustomed to a bustling city with a thriving nightlife. The pace along High Point Road was much slower than where they had lived before. "We thought if it doesn't work out, we can move back home," Timmy says. Despite a slow start, he says it took just a few months to develop a following. Then they got some attention from local press, and business got even better. Their first year in operation, the couple worked without a day off - from opening to closing. Now they've got a small reliable staff, which enables them to take time off. Still, their daughter, 9-year-old daughter Jessie, spends as much time at the restaurant as she does at home. She acts as hostess, helps clean tables and talks with customers. Just like her dad, she's learning the business without even realizing it.
When it comes to the food, Timmy Vasasiri says they use some of his mother's recipes - with his own twist. "I add just a little bit of my taste," he says.

He likes a perfect balance of sweet, spicy, salty and tangy. His favorite dishes are drunken noodles, chopped chicken and spicy cashew nuts with scallions and hot pepper in a spicy roasted chili sauce. While there are a few lightly fried chicken and shrimp dishes, for the most part the Vasasiris stay true to their Thai roots. The combination of flavors and the foundation of their soups, rice and noodle dishes are strictly Thai.
And he's noticing that people are coming into his restaurant more educated about Thai food. Business has been good, their daughter likes her school and they're getting used to the pace of the Triad. "We like it here now," Timmy Vasasiri says.
I'm glad, because there are at least ten things from their menu that I want to try.