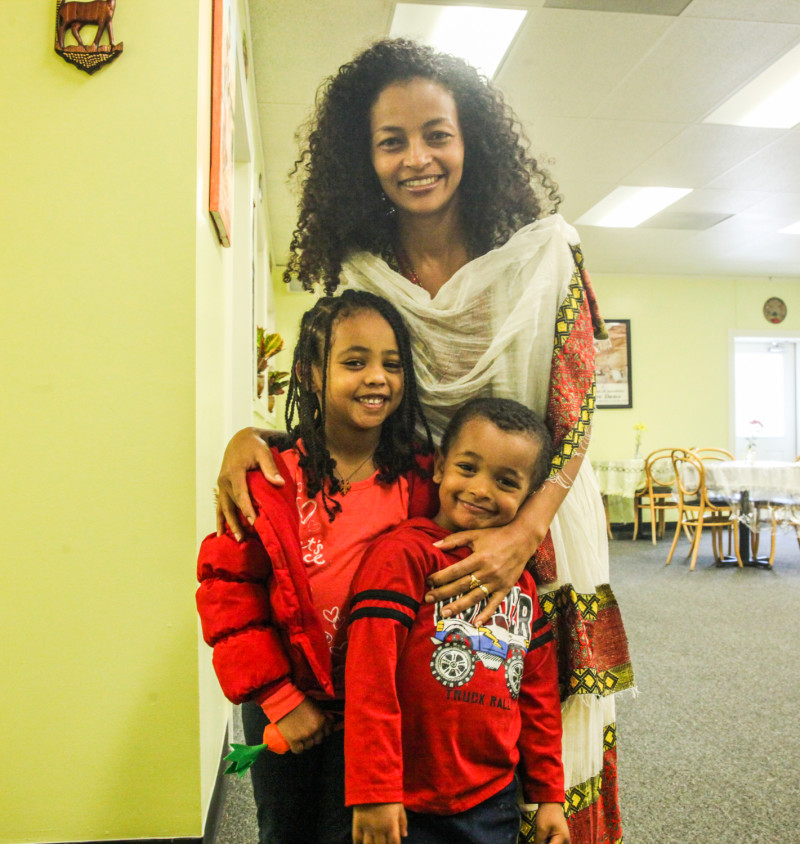 When news spread late this summer that a legitimate Ethiopian restaurant was set to open in Greensboro, people in the know were holding their breath. For anyone who has tried Ethiopian food before, the temptation of having the real deal close at hand (instead of a long drive to Chapel Hill or Raleigh to indulge) was enticing – and mouth watering! Despite the high hopes, there was caution in the optimism for this new business as well – restaurants are notoriously fickle and too many good ideas have fallen flat upon arrival in this community. In the fall of 2013, when Taste of Ethiopia officially opened its doors to the Greensboro community, the pilgrimage of curious, hopeful, hungry diners began immediately.
For people like us, a first generation immigrant growing up in an Eritrean household (Aden) and a longtime friend and advocate of the resettled Ethiopian/Eritrean refugee communities (Sarah), the restaurant's promise was more than culinary. An authentic Ethiopian restaurant would offer a taste of home for those who've settled far from their families. It would be a place to bring American friends and loved ones to share in a familiar cultural tradition. It would be a fond reminder of youthful travels and adventures past and more importantly, could serve as a symbol of hope for our city's newest immigrants who dream of one day having a place of their own.
Needless to say, neither of us wasted any time in getting ourselves (loved ones in tow) a taste of Taste of Ethiopia…
When first entering the restaurant, our senses were delighted immediately by the warm scent of incense and spiced tea that greets you at the door. The tables, protected from the inevitable food spillage of first time diners, were soon set with a large platter lined with the spongy fermented flat bread – Injera – that serves as both the foundation of the cuisine and the meal's only necessary utensil. Topped with a variety of warm brightly colored vegetable dishes, salads and spicy stews, the meal looks so good that even those of us who had eschewed injera since childhood (ahem, Aden), are compelled to give it another try.
The food did not disappoint and after filling our bellies and taking in the sights and sounds and smells that bring back so many memories for us both, neither of us could wait to help spread the word about this amazing new find. Given the opportunity to collaborate to tell the story of this delicious new restaurant find, we convened on a Saturday morning at Taste of Ethiopia to meet one another and the family behind the business.
Restaurant owners Lulit Kifle and Elias Ashame have been sweethearts since they first met in college in the late 1990s when Elias was studying to be a doctor and Lulit a nurse. The two fell in love amongst their studies and soon became inseparable. When Elias was later given the opportunity to come to the US to work as a physician, it wasn't long before Lulit followed. After living in places like up-state New York (too cold) and Arizona (too hot), Elias and Lulit, married by this time with two young children, eventually settled on Greensboro, NC, a city they found to be just right.
With a permanent place to call home and the lure of grandchildren, Lulit's mother Azeb soon came to join them in the US where several other extended family members on both sides had already settled.
Though Greensboro had a lot that the family was looking for, they, like so many others, felt the absence of their home culture and traditions in the public arena of the Triad. Despite a rather large and growing Ethiopian and Eritrean community in the Piedmont, there was only one market selling regional spices and food products, and the closest Ethiopian restaurant was over an hour away.
Lulit (Luli to friends) and Elias had long held on to the dream of bringing a taste of home to their adopted US city, and having Lulit's mother settle nearby seemed to be the last piece of the puzzle. Azeb had always been an amazing cook, whipping up food for huge events and parties as if it were as simple as cooking for two. She had both a passion and skill with food that drew people in and at one point had even run her own restaurant back home in Ethiopia. Her family knew that given the opportunity, others would love her food as much as they did.
And so it was, with the support and generosity of their extended family, Lulit and Elias took the plunge and in the fall of 2013, opened Taste of Ethiopia. The family designed a menu that features a wide variety of Ethiopian staples with plenty of vegetarian and vegan fare reflective of the traditional Ethiopian Orthodox Christian practice of abstaining from meat on fasting days (a practice that is upheld on 180-250 days of the year in Ethiopia). They decorated the bright new space, a former deli tucked away on a side street off of W. Market, with cultural photographs and traditional artifacts. And while Elias and Lulit were confident in Azeb's cooking and knew that the Ethiopian community would come out to support them, they truly didn't know what to expect from Greensboro.
Just weeks after opening, the restaurant today is bustling, with family members on both sides pitching in as proud and gracious servers, hosts and cooks, and a steady stream of customers for both lunch and dinner. When we asked Lulit and Elias what had surprised them most about their new experience as restaurateurs, they both agreed that it was the community response. People loved the place – and not just their friends in the Ethiopian community. All kinds of people have been making their way to Taste of Ethiopia, navigating through new customs and foods, pushing their limits of familiarity, and falling in love.