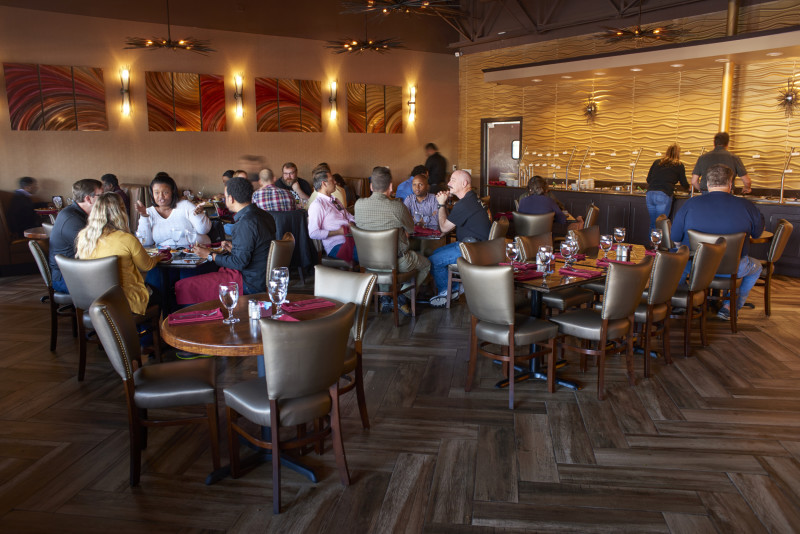 Taaza means fresh in both Hindi and Arabic, and the new Indian restaurant in Greensboro, Taaza Bistro, certainly lives up to the name. All of the ingredients used in their dishes are fresh and everything is made daily by the staff. The co-owners, Chellappa Yasin, a Muslim, and Mohan Chinnathambi, a Hindu, chose the name because it represented both of their faith backgrounds.
The two co-owners first met while attending university in India. Then, they immigrated to the US and worked a while together in the restaurant industry in the Raleigh area. Then, six years ago, Yasin and Mohan decided to open up their own restaurant in Burlington. They soon realized that a lot of their clientele were traveling from Greensboro to Burlington. "Our customers urged us to open up a restaurant in Greensboro because they were driving [from here] to Burlington to eat there," Yasin said.
Earlier this year, on June 15th, they opened up their Greensboro location near the corner of Bridford Parkway and Wendover Avenue in the Wendover Place development. Just like their Burlington location, they offer a lunch buffet and an a la carte dinner menu in the evenings every day.
With a plethora of Indian restaurants in the Triad area, they stand out for being the only restaurant in the Triad serving primarily southern Indian cuisine. "You have to go to the Triangle or Charlotte to find another southern Indian restaurant," Yasin said.
I visited Taaza Bistro shortly before Thanksgiving to meet with Yasin and to taste some of the foods. While we talked he continued to bring out samples of a wide range of meat, vegetarian, and vegan dishes for me to try. One of the primary take-aways from the experience is that southern Indian food is known for being more spicy than Northern Indian cuisine. Also, in general, Southern Indian cuisine is known for having dishes be based on rice, like the Dosas and the Hydrabadi Dum Biryani, as well as curries and dal. Northern Indian cuisine is generally known to have more grilled meat and uses bread more.
A unique aspect of Taaza Bistro is that they have the only charcoal tandoor oven in the region. Tandoori ovens are common in India and other parts of Asia. At Taaza, they use the oven to cook many of their dishes as well as their delicious bread. The tandoor oven has the fire within itself, thus exposing the food to both the fire and hot air. Tandoori ovens can usually reach temperatures of 900 degrees and can smoke the food as the juices drip on to the charcoal. This results in a great charcoal flavor in all of their dishes and breads coming from their tandoor oven.
Some of the southern Indian dishes that they offer are a variety of Dosas, a pancake-crepe primarily made with rice and vigna mungo or black lentils. On the menu, they offer around a dozen different varieties of dosas, including a six-foot dosa, which they nicknamed Big Bang, that can be filled with a variety of vegetables and meat options depending on the diners' preferences.
Another dish is the Hydrabadi Dum Biryani, which is one of YasinÂ's favorite dishes. He describes the dish as a rice casserole that is popular in South India. This dish is traditionally made with chicken and basamati rice, along with other spices. But, at Taaza, diners can try it out with goat, lamb, vegetables, or chicken, depending on their preferences.
The cuisine greatly varies from state to state. Taaza does have a lot of dishes that are typical of northern Indian cuisine, like Palak Paneer, made of spinach and cheese, which is my personal favorite. They have tons of options for meat eaters, vegetarians, and vegans.
Due to the owners' religious background, beef and pork are not served with any meals at Taaza, because the Hindu faith forbids beef and the Islam faith forbids pork.
Being from the Midwest, the home of bland food, in terms of spice, I have little tolerance for spicy food, much to the dismay of my wife. To help my lack of tolerance for spiciness, Yasin also treated me to an excellent mango lassi, a yougurt-based drink often mixed with different fruit, like mango, delicious naan, a soft flatbread more common to Northern Indian cuisine, and papadum, a thin crisp flatbread served alongside a yogurt dipping sauce to balance out the spiciness and save my white bland self from overheating.
Yasin started cooking at a young age and it becomes clear that he is still passionate about cooking and all the dishes they offer at the restaurant. Throughout our conversation, it was clear that Yasin takes great pride in operating the Taaza Bistro with his friend Mohan.
I left Taaza fully satisfied with my eating experience and with much more knowledge about Indian food. My wife was grateful for the leftovers I brought home with me and she savored the spiciness.
At Taaza Bistro Mohan and Yasin strive to bring an inviting experience to everyone who enters the restaurant, while celebrating both the diversity of Indian food and their faith backgrounds to bring delicious food to all of their customers.