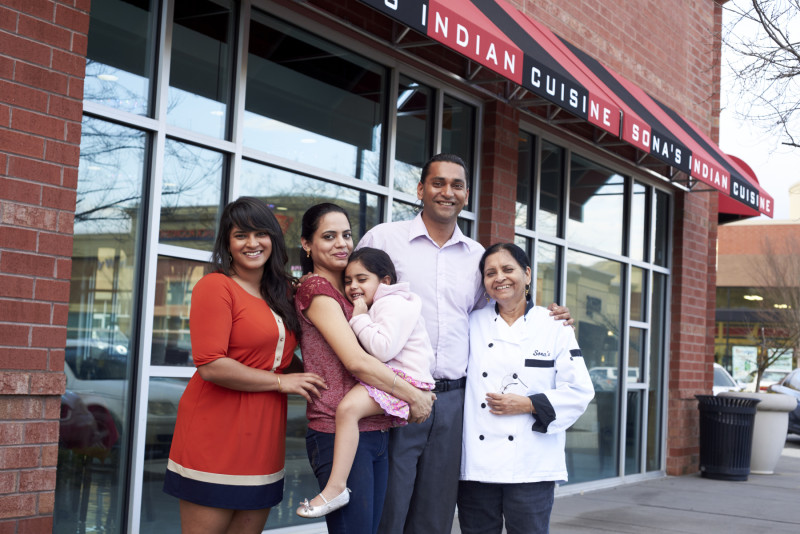 My first encounter with Bivinder Pal, the owner of Sona's Indian Cuisine, was on the cricket field. And it was hard to miss him. His 6' 2" frame towered over everything.
For the uninitiated, cricket is India's equivalent to baseball, brought over by the British in the late 18th Century. And Biv (we call him Biv) is the bowler, the pitcher of the cricket world. And he's fantastic, famous in the local cricket community for throwing fast and with lots of curve (we call it swing).
And I would know, because I am Biv's catcher (or wicket keeper). So we have a special relationship on the field.
But, what immediately stood out to me, apart from his stature, of course, was Biv's passion and hard work. And after visiting Sona's Indian Cuisine, I know that he brings that effort from the field to the restaurant as well.
On Monday, March 28, 5:30-9:00pm, Sona's Indian Cuisine will play host to Ethnosh, the international food adventurers, to showcase the cuisine and culture of India. At this NoshUp, you can meet the Pal Family who bring all of this goodness to your city. $8 gets you a plate full of signature samplers from a buffet of vegetarian and non-vegetarian items. Water and Chai tea are included in the price. Beer and wine are available at an additional cost. Electronic reservations are required to attend.
The first thing you notice when you walk in to Sona's is the ambiance – stylish, elegant, but relaxed. As soon as you are seated, you are served with warm, crispy 'papad' – a crunchy tortilla-like dish. You can try it with one of the three sauces, or chutneys, each with a different taste. The onion chutney seems to be the crowd favorite.
Indian food is incomplete without a wide variety of vegetarian dishes. Sona's boasts 17 different vegetarian dishes, each one better than the next. Paneer (cottage cheese) is by far the most popular and Sona's has seven different varieties to choose from.
Not many restaurants can claim homemade cottage cheese. This is the uniqueness of Sona's. All the food is fresh and made in house.
The Murgh Malai Tikka, boneless chicken cubes marinated in fresh cream, is served on a sizzling plate. The Keema Samosa – a goat dish, is quite rare to find in your average Indian restaurant. And this is exactly what Biv and his family are after.
Back in India, Biv's father Parminder ran a thriving hotel and restaurant business. But, he sold everything to move to the US in the hope of providing quality education and a better future for his children.
Life for the Pal's would never be the same again.
A 17-year-old Biv first came to the US of A in 2002, along with his little sister Tania. The American Dream was not so rosy for him. He had to work his way through college – from cleaning bathrooms at gas stations, to working 20-hour shifts and three jobs at a time.
Biv's mother, Rita, an English lecturer back in India, started off with a temp job at Sears. Mr. Pal had to wait almost a year before he finally got a job as a server at the Marriott.
From owning one of the largest hotels and restaurants back home, they were now taking on odd jobs – things parents do for their children!
The same dedication is visible at Sona's. It's the persistence and support of his parents that pushed Biv to take the plunge and fulfill the life-long dream of opening a restaurant in Greensboro.
While studying for his degree in business administration at NCA&T, Biv met his wife Sukhjit, a computer programmer. They gave birth to a beautiful daughter Sona, after whom the restaurant is named. Biv's sister Tania is now a certified pilot and is flying high, quite literally. All the hard work by their parents seems to have paid off, with kind.
When I ask Biv about his vision for Sona's, he says, "I don't want our restaurant to be known as 'just another Indian restaurant.' I want people to feel like they are in their very own dining room, being served home-cooked food."
In the end, nothing replaces Mama's cooking. And for our purposes, Mama is head chef, Rita Pal, Biv's mother.
Her entrée collection provides a unique mix of the most well known dishes and some of the unknowns. Starting off with the Chicken, also called Murgh, we have the tried, tested Murgh Tikka Masala and the Tandoori.
For someone who is unwilling to experiment with new dishes, these are by far the safest on the menu. And they don't disappoint.
Each entrée is served on a handi, a decorative serving pot kept on a small burner, ensuring that the food always remains warm for you.
The Murgh Musallam is the "new-dish-on-the-block". It is a whole chicken stuffed with boiled egg, sautéed in creamy rich gravy made with cashews, almonds, tomato and chili glaze, garlic and ginger. It is as mouth-watering as it sounds and can be easily shared by 2-3 people. Most dishes have a full or half chicken option, and also a boneless or bone-in option.
The Vindaloo is also a unique dish, originally from the coastal state of Goa, India, a famous tourist spot, like the Miami of India. It has a nice zesty flavor to it, well mixed with potatoes and white vinegar.
What is undoubtedly the signature dish of Sona's is the Goat Curry. Words simply cannot do justice to the aromatic preparation and delicious taste of this particular dish. It is a must try!
A self-proclaimed food enthusiast, I've found it very difficult to find good, authentic Indian cuisine in the Triad. When I first tried the food at Sona's, I was immediately reminded of the restaurants back home.
Sona's has maintained the original Indian flavor. Over the past three months, I've tried almost every single dish on the menu, and each time, I've been pleasantly surprised with the originality and flavor in each and every dish.
Every member of the Pal family has given something special to Sona's. You feel it when you walk in. You can taste those gifts in every bite.