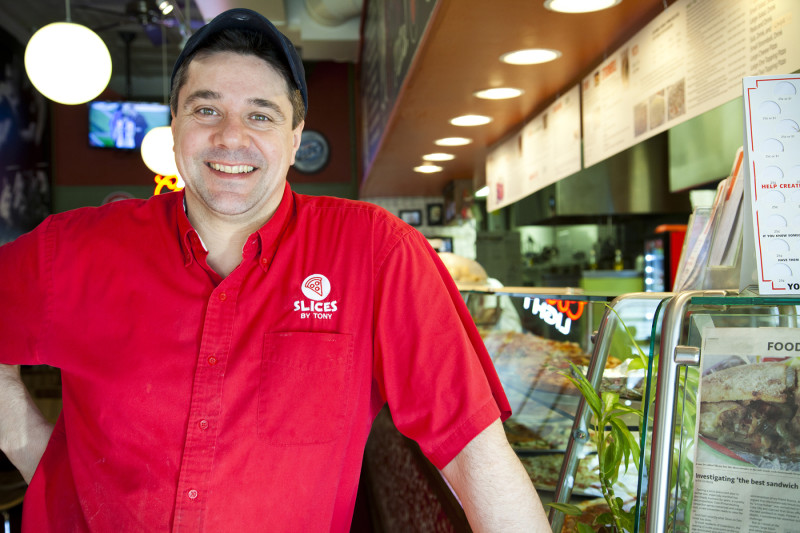 Some time last summer, my brother Gianmi and I are running late to an event. In my frenzy to pick him up along Tate Street, I get a message from him saying, "Bianc, I'm starving and I gotta get this sandwich, just wait-up a bit longer." He gets in the car and in his hands he holds a large, puffy, half-moon wrapped in aluminum foil. That salty bakery smell permeates. It is with this gesture that, like so often before, my stomach gets the best of me and time goes by the wayside.
He peels away at the foil and reveals what immediately takes me back to my childhood, living in Santa Brigida, Italy: That tiny village where the fornaio (the local baker) only offered a few breads per day, in rotation. These included some kind of focaccia, a schiacciata (literally means "squeezed"), and varying saltless tuscan breads. All of these have an incredible texture comprised of a crispy, crunchy crust and super tender belly. Well, all this to say, as Gianmi began to feast, I began to wonder who was behind Slices by Tony.
His name is Antonio Fortezza but he goes by Tony. He has the friendliest face I have seen in a long time and a typical sincerity and genuine character that reminds me a lot of the Italian gents with whom my Florentine father would surround himself. All the more, Tony is generous, not too dissimilar to a typical nonna (grandmother), practically force-feeding his guests when they pay him a visit: I have found a nutella roll or zeppole (a ricotta doughnut) in a to-go bag a few times now as a gift.
After the nostalgia of the sandwich experience with my brother last summer, I have been partial to the sub Tony calls La Fresca. It contains fresh mozzarella, prosciutto crudo, tomatoes, arugula, oregano, and really good olive oil on crispy bread he makes from some of his pizza dough. It is finger-licking, hand-clapping delicious! But Slices by Tony, evident in the name, is not known for just its sandwiches and panini. It is a Neopolitan style pizzeria. Even the most regionally proud Italians claim the pizzerie of Naples to reign supreme.
As you walk into Slices, you will find an L-shape countertop with glass cases housing the traditional thin crust pies of southern Italy. While he showcases the simpler, authentic pies of Naples, like Pizza Marinara or Pizza Margherita, he also has a few innovations such as the Lory (named after his wife) which is comprised of mozzarella, bacon, mushrooms, onions, ricotta and green peppers; and the Nonna Lucia, a pizza of mozzarella, ricotta, handcrafted meatballs, garlic and basil.
At Slices, you can find stromboli and calzoni but you can also find homemade pasta and soups. His minestrone is one of the best I have had, full of vibrant vegetables, beans and herbs, similar to my dad's. I asked Tony if it was difficult to find good quality ingredients like those from home and he said no, not really. He has had pretty good luck in his supply and I can tell when I eat there: Everything tastes fresh, olive oil very green, mozzarella luscious and full of flavor.
Tony started making pizza when he was 13. I asked him if he learned from his parents but, no, Tony was slinging pizza in a local shop in his native Pozzuoli, a commune of the metropolitan city of Naples, Italy when he was just a teenager. Between 1999 and 2006, Toni lived and worked in Florida, New Jersey and New York. He returned to Naples where he worked at a joint called Pizzeria Giulia for nearly a year and then moved to the northern Italian region of Umbria and opened his own pizzeria called Nuovi Sapori in Assisi.
He closed the shop nearly four years later to follow his dream of returning to Naples to open his own pizzeria. But, upon returning to Naples, he quickly renounced these endeavors, feeling uncomfortable with the crime rate. He also met his wife Lory whose parents were living in North Carolina and the couple decided to give it a chance. Tony first worked for Amalfi's Italian Restaurant in Kernersville. After two years, he and two other Amalfi's partners opened Slices. Shortly thereafter, Tony became sole proprietor and he has been making it his own ever since.
I asked him what his goals might be for Slices by Tony and he simply says, "I want it to be the best pizzeria in town. Otherwise, what is the point?" A true Italian would say just this. They are never fully satisfied and this is why Italy remains one of the prime culinary centers of the world, always striving for more, always trying to perfect!