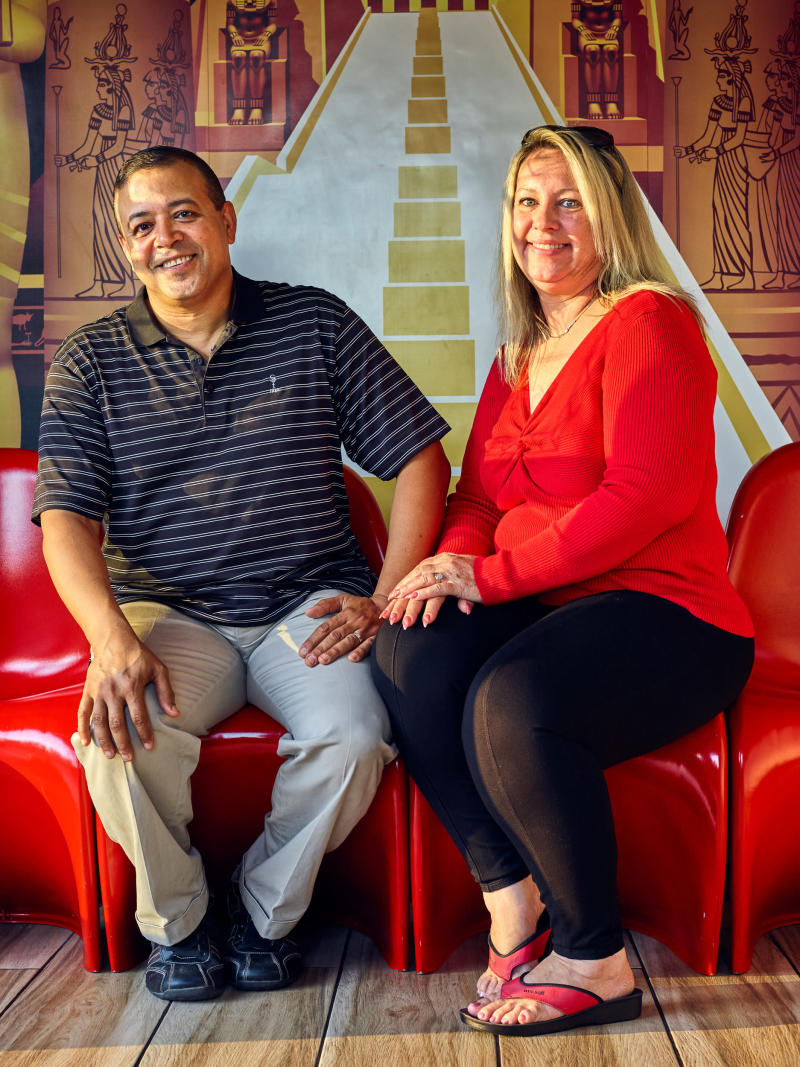 If you ask Hassan Ragab why he left his native Alexandria, Egypt - a Mediterranean port city with old-world cafes and sandy beaches - he answers without hesitation.
"Everybody in the Middle East dreams of coming to America," he says.
He was drawn to America because he believed it was a safer place to live and one that could offer greater opportunities for a better life. This restaurateur and father of three is living his American dream. Earlier this year, he relocated his successful restaurant, Sarah's Kabob Shop into a larger space, just down the street from his prior location on West Market Street. Since the move, Ragab says business has significantly increased. Customers like the larger, renovated space, ample parking and expanded menu.
The restaurant, which is named after his daughter, Sarah, could be described as Mediterranean. It's known for its beef and chicken kabobs, shawarma and falafel. But half the menu also consists of American lunchtime classics like burgers, steak and cheese subs and fried seafood baskets. Such variety - in addition to reasonable prices, generous portions and fast and friendly service - has helped them become a popular casual dining spot.
Ragab didn't have this burning passion to cook. He got into restaurant work decades ago as a way to make a living. It's Annette who loves to experiment with cooking and trying new foods. Together, they have built a business that consistently earns rave reviews from customers who are moved enough by their dining experience that they write about it. Sarah's Kabob Shop is rated 4.5 of 5 on TripAdvisor and ranked #4 of 749 restaurants in Greensboro. They've also earned TripAdvisor Certificates of Excellence from 2015-1019. Their success is a reflection of Hassan's many years in restaurants and their commitment to serving fresh, good quality Halal and Kosher food.
And if you read the reviews, their customers can taste the difference.
Hassan Ragab may have dreamed for years of coming to America. But he would first travel the world by way of a commercial ship. The former marine engineer worked between Egypt and Saudi Arabia, and for a time on a cargo ship in Brazil. But that's not a good life for someone wanting to settle down.
He made his way to the U.S. when a friend invited him to visit him in Jersey City. Ragab didn't like it there. It was too hectic. He preferred a slower pace, a quieter lifestyle. The friend invited him to Greensboro, and this is where Ragab has made his home since 1994.
Ragab's restaurant career began as a dishwasher at a Mediterranean restaurant. He worked his way up to cook, cashier, then manager. He also met Annette, a Greensboro native, who also worked there. After they married, she stayed at home with their three daughters, Lena, Sarah and Sommer.
When the Ragabs decided to open their own restaurant in 2012, their humble spot at Guilford Station shopping center grew a base of regular customers, including Kristi and Roger Haight. The Haights began dining at Sarah's Kabob Shop more than three years ago.
"Up until that point, I never really liked Mediterranean food. Now I love it," Kristi says.
Her favorite is chicken shawarma, while her husband tries different dishes. They dine there two to three times weekly and have also become close friends with the Ragabs.
Kristi says they were drawn to Hassan and Annette because they were so friendly and worked so hard.
"We love supporting small business owners and want to see a great business like Sarah's do well," she says.
When the Ragabs decided to relocate their shop in the former Cooper's Ale House location a couple of years ago, they knew it would be a massive undertaking.They rebuilt the kitchen, bathrooms and dining room. It took about a year and a half to complete. The Haights offered their help in any way possible. Kristi helped decorate the main dining room and the two event rooms, which are named for the Ragab's daughters, Lena and Sommer.
"Roger and I don't have any family in Greensboro and Hassan and Annette have made us feel lke we're part of their family. Their friendship has meant a lot to us," Kristi says. "We have lived in several states and visited many restaurants, and it's rare that you see the owner of a restaurant so involved and happy to talk to and interact with his customers. Hassan has been that way since we started going in more than three years ago."