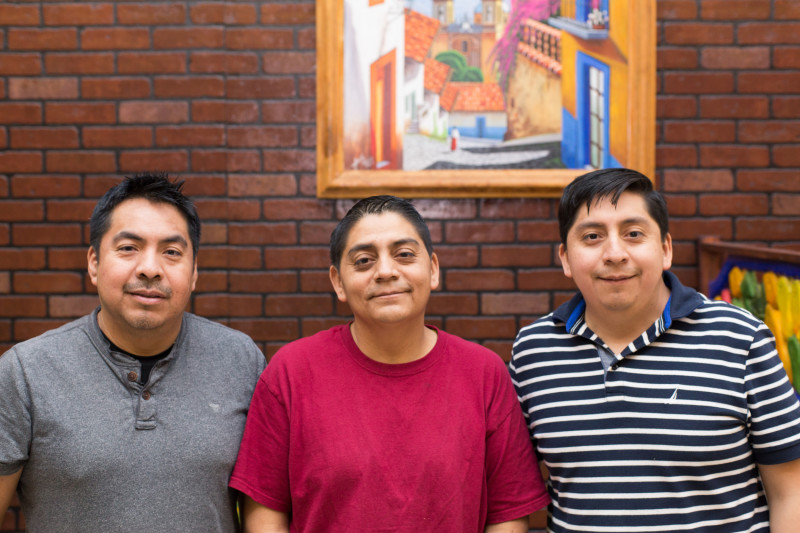 It's easy to focus on flavor when entering San Miguel Restaurant and Market, a grocery, butcher, and restaurant, tucked next to a discount store in a strip center off Cone Blvd. But, the stories behind the business offer a window into the unseen and overlooked aspects of immigrant food businesses.
For instance, the shelves holding up grocery items, and the commercial kitchen in the back, were paid for partly by the sale of a '96 Dodge Neon owned by one of the founders, Miguel Juárez Luvian, and a '97 Mustang owned by his brother Enrique. "They brought in maybe $2,500," says Miguel. "It wasn't enough. That's why we had to sell the house we were living in too."
Miguel and his brothers wouldn't even be here if they could have inherited the family business, helping their father sell construction materials to builders back home in Mexico. But starting in the early Nineties, as Mexico's interior states were hollowed out by NAFTA's new economic order, and corruption, very few people had the money to build anymore. One by one, each brother made the trip, following others from Tlaxcala who had made Greensboro home. "We couldn't believe it," says Miguel, "we could earn up to $7 an hour."
Miguel, Enrique, and their middle brother Humberto, have driven thousands of miles from Brown Summit to jobs as chefs at PF Chang's six or seven mornings a week, and on their return from evening shifts at Ruby Tuesday and Outback Steakhouse. Miguel would point at the vacant corner of this shopping center as they passed on Yanceyville, the brothers' dream taking shape. For six years they saved up, self-financing their build-out, while also supporting family members in Tlaxcala. "There aren't many lines of credit open to immigrant entrepreneurs, but we find a way," Miguel laughed.
They opened San Miguel - which is named after their hometown - in 2007, still the only Latino restaurant-market in a 20-mile stretch up Route 29, which has a significant immigrant population. Then the recession hit. "The property manager actually said, 'This is not the time to open a business.'" He says that in hindsight, they had it relatively easy. "Back then, immigrants could get driver's licenses in North Carolina, and there wasn't as much hostility. We only had to worry about building up our clientele."
Eventually, their sales started climbing, and customers clamored for more options, leading them to add a butcher counter four years ago.
Lately, their concerns have taken a turn away from those of the average business owner. In late July, a regular patron and several of his coworkers were detained by Immigrant and Customs Enforcement a block away from the store on their way to work, hours before the restaurant opened. Sales plunged for several weeks, as rumors swirled about whether federal agents were indiscriminately targeting restaurant patrons. The wife of one of the detainees was once a San Miguel waitress. "It really hurts, especially when these things happen to people we care about," Miguel says. "And when you think, 'well, that could be me.' It makes you rethink every time you leave the house. 'Do I really need to drive there?'"
The food itself has its own stories, at once obvious and undetectable. Their mother taught Miguel and his brothers to cook the dishes typical of their native Tlaxcala early on, with all three capable of whipping up gorditas and sopes, a thick corn cake soaked in lime and topped with beans, cheese, meats and vegetables, before age ten. "She told us it would give us more options later on. She would say, 'What if you marry someone who doesn't cook as well?'"
The same gorditas continue to be popular menu items, but the brothers have learned to adapt to local tastes. They're traditionally made as a simple afternoon meal, a kind of cornmeal cake topped with leftover pork cracklings, which are fried repeatedly in lard and pressed to remove excess fat. The Greensboro version adds beans, lettuce, cream, even avocado. The sopes are similarly crisp and crunchy, the flavors popping out with each bite.
But the standouts here are the stews, called guisados. These entrees typically include a meat and a vegetable, all cooked together in a distinctive sauce, depending on the dish. Few local Mexican eateries serve such a wide variety of complicated entrees, like mole poblano and costillitas. The steak a la mexicana is especially popular among regulars, cooked in tomatoes, green chilies and onion.
Miguel's enthusiasm overflows as he describes how they've come to tinker with the menu based on feedback from regulars. He shakes his head when I ask if it has been difficult to square the support he gets from patrons with the way immigrants are talked about by many politicians.
"Most people have no idea how much we're contributing in sales taxes, business taxes, payroll taxes, income taxes. And we're glad to do it. We genuinely want this country to keep getting better." He pauses suddenly, trying to find just the right phrase. "This country has been our door to the future." He mentions the steep discount offered to all first responders, which I don't see advertised anywhere. It's just another hidden layer. Like the repurposed flavors from home, sown with care throughout the menu. Like San Miguel's regulars, you're likely to find one worth coming back for, too.