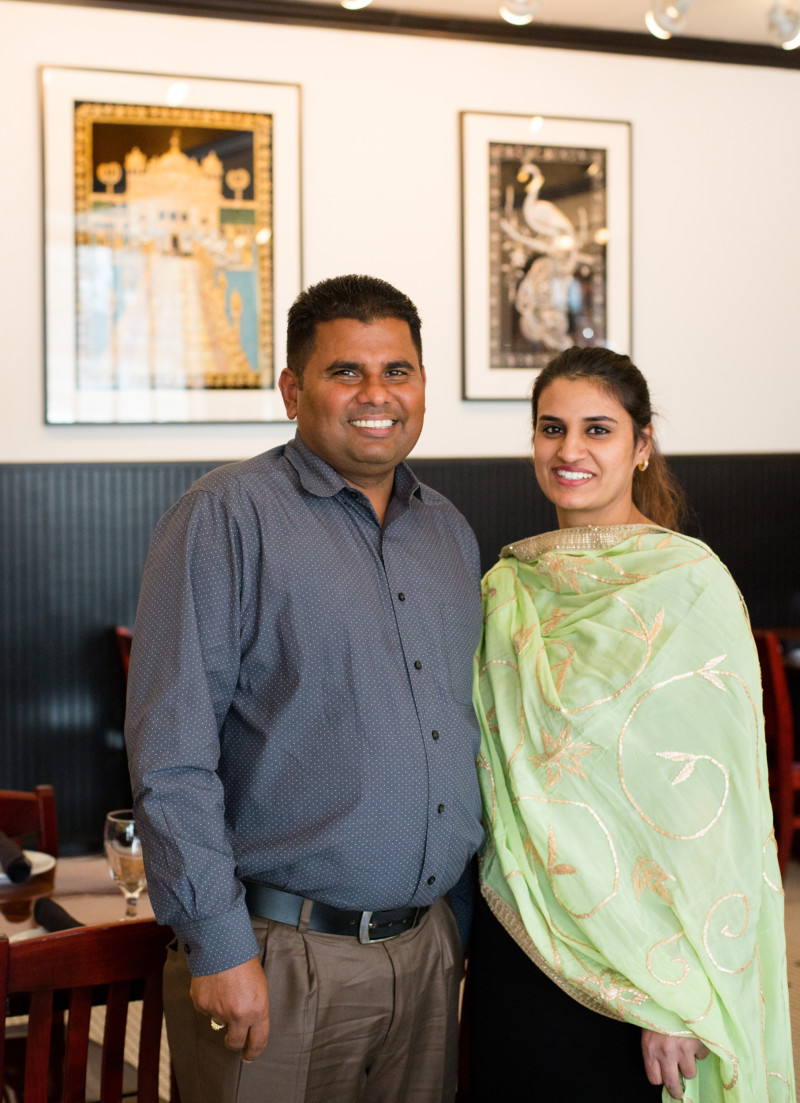 Medium, medium-hot, hot and "Indian hot (read off-the-chart hot)." That's how Kabal Gill, co-owner of Saffron restaurant with Raj Arora, describes his spice repertoire. The restaurateur (he owns restaurants in four other locations including Atlanta) from Punjab, India, is an expert in the art of Indian food from his days as a chef and owning restaurants serving his native cuisine. Arora is also from Punjab.
Gill gives me a window into the world of Indian spices with a peek in the kitchen. The shelves are lined with staples shipped from India: chile, curry, saffron, tamarind, turmeric powder, chana masala (spice for chick peas), kasoori mithi (dry Greek leaves), garlic and the list goes on.
"I need 'American hot,'" smiles Jennifer Wilson, a frequent diner. The good news is that Saffron allows guest to spice it up or not, according to their palate. "The spices and sauces are great — I especially like the chutney and cucumber sauce, and I like that I can use the sauce to have the 'heat' the way I want it." She points to the buffet bar where sauces take up a portion of the desert bar – mint, onion chutney, and others. Gill admits that the spice "heat" is dialed back unless requested. Most Americans don't have the palate for "Indian hot."
Smiling, Anu Alam, is dressed neatly in black like the rest of the professional wait staff. She is willing ambassador of Indian food even though her native land is Bangladesh. Alam starts her short tutorial on Indian food with the popular lunch buffet bar known for its freshness, presentation and vast array of choices.
Meat protein choices come in the form of chicken, lamb, fish and goat. Don't look for beef at most Indian restaurant. The cow is sacred in the Hindu religion and Indians typically refrain from eating beef. "Lamb and goat are tastier than beef — especially goat," explains Alam. If you are craving a steak the dinner menu has a filet.
Alam tells me the runaway favorite is the Chicken Tikka Masala made with 100 percent white chicken and baked in a clay oven with cream, tomato base and onion. The flavorful dish is creamy but delicate and not overpowering. Goat served in curry sauce, boti kebab (lamb) and tandoor salmon tikka are popular meat choices.
Vegetarian choices are plentiful. Black lentils, black chickpeas, eggplant with potatoes and masala sauce, broccoli pakora (fritters), vegetable balls (cabbage, potatoes and carrots fried) are some of the delightful and healthy dishes geared toward vegetarians. The saffron French fry is a standout. The crispy "French fry" can go toe-to-toe with American style and then some. The crispy potato is fried in chickpea flour for a truly original and delicious taste.
There are two Indian cuisine mainstays that must be mentioned: naan (bread) and rice, both of which are given a bad rap in America by the "carb" watching crowd. At Saffron, both feel like delicacies. There is a beauty in the simplicity of the white basmati rice and its ability to pair perfectly with sauces, meats or vegetables.
Naan bread is fast becoming America's favorite ethnic bread. The leavened, oven-baked flatbread comes in wheat or white. The puffy but light bread is made in a tandoor and combined with garlic and other spices.
Photographer Carolyn de Berry knows a thing or two about Indian food and shared her experiences with naan. "Dragging a piece of naan bread (always get chutney to go with it) through the last bits of sauce on your plate is not a bad idea," says De Berry. She adds another "plug" for the other bastion in the foodie world — take-out. "The last two years we've gotten take-out on Valentine's Day since eating in a restaurant with a toddler is not quite as relaxing as people imagine," says De Berry. "I can tell you that it's just as delicious sitting at home on your couch as it is in their lovely dining room."
Craft and imported beer choices run the gamut from the familiar Samuel Adams and Blue Moon to choices from Holland, Mexico, Iceland, India and other countries. Wine and beer specials run each week.
American coffee has a challenger in town. Saffron's chai tea looks like designer coffee but is arguably the best tea in Greensboro. The smooth concoction of milk, tea leaves, ginger and cardamom are the stuff dreams of made of – especially on a cold day. I think of no better way to start and end the day, all for the bargain price of $4. Alam tells me the tea has a fan club. "We have ladies who come every day for chai tea," smiles Alam. "They say it is better than Starbucks."
Indians revere tea (India is a major tea producing country), and their expertise shows in taking a simple product to four star level. For those who prefer a fruit drink as a reward, try the refreshing mango lassi - mango fruit combined with yogurt to create a smoothie. The refreshing drink comes in strawberry and "sweet" lassi.
On weekends, brunch is one the menu, serving traditional Indian breakfast and lunch dishes topped off with champagne mimosas. Kids like the milkshake served that is reportedly not like an American milkshake. The recipe is a secret so it must be good.