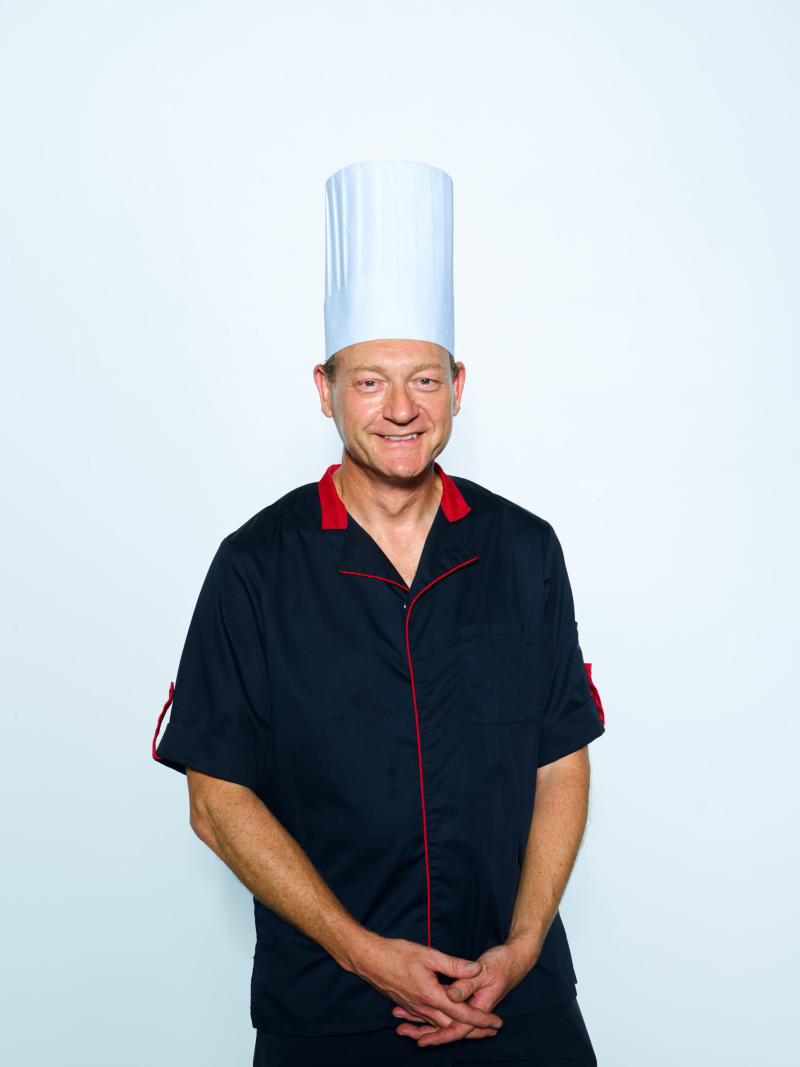 It could be said that most of Reto Biaggi's life has been one party after another. It started in his youth. His mother, Franziska loved to host parties at their home. The family held dinners and themed parties at least once monthly. He and his sister always helped their mother prepare the food. Beef Wellington. Salmon with hollandaise sauce. Stuffed baked sole.
The food was always thoughtfully planned and prepared. They also paid attention to the extra details. "There is not a dinner at her house without flowers on the table and place mats," Biaggi says. "Every meal is a special occasion."
Biaggi continues to live that lifestyle today. Except that the parties are for his clients, not his family. His Lindley Park business, Reto's Kitchen, provides personal chef and catering services. He also leads cooking classes and kids cooking camps.
Biaggi, who is Swiss and French, was raised in France. He has called Greensboro home for the past 21 years. His culinary and hospitality experience includes luxury hotels in France and Canada. In Greensboro, he helped open Green Valley Grill and the restaurant at Grandover Resort. But Biaggi says the work he's doing now is the most creative of his career.
"Every event is its own custom thing," Biaggi says. "I've never done the same menu twice."
He strives to make his food fresh, simple and delicious. He prefers using natural, locally raised or made ingredients. Take the BLTs he made recently for the Greensboro Farmers Curb Market's BLT Challenge. Biaggi used juicy tomatoes from Farlow Farm, bread from a local French baker, thick, crispy bacon and fresh basil.
This preference for farm fresh food goes back to his European upbringing. He jokes that French people new to the area will find the farmer's market right away. It may take them months, however, to realize that Harris Teeter is a grocery store.
He first learned to cook alongside his grandma Frieda. He describes her as "a really cute little grandma, cheery and full of life. Her smile brightened her whole face. She smiled with her eyes, with her cheekbones and with her wrinkles. She made you smile," Biaggi says.
Grandma could always be found in either the kitchen or her vegetable garden. She would make polenta, then let it cool. The next day, she fried them like pancakes for breakfast. Biaggi's Swiss-Italian Grandaddy loved her risotto with mushrooms.
The Biaggis moved from Switzerland to France when he was just 5-years-old. That's when his parents began entertaining regularly, often to raise money for charitable causes.
"In France, it is very common to invite friends over for a dinner party," Biaggi says.
His parents' parties often had themes. For their housewarming party, they had guests plant trees in the yard. On Bastille Day, the French national holiday, they placed signs and flags in front of their home to replicate City Hall. His father dressed up as the mayor.
"My dad was the one who liked having parties the most. He was always generous when it came to parties, celebrations, having dinner. He always pulled out the best wines, rented the best places and ordered the nice menus," Biaggi recalls. It was his dad who taught him to work hard and be generous, he says.
Biaggi remembers at age 12 melting a wheel of Swiss raclette cheese over the fireplace in the kitchen. He knew then that he wanted to be a chef. That desire was reinforced by his family's extensive travels to Africa, Asia and throughout Europe. They stayed in luxury hotels and ate in fine restaurants. Those were strong memories for a child, inspiring him to dream of one day creating his own exquisite dishes, he says. Their travels, combined with his parents' love for entertaining led him to his life's work.
"What my parents taught me was hospitality and the pleasure it can be to serve others," Biaggi says. "I cater because I make people happy. And it's fun!"