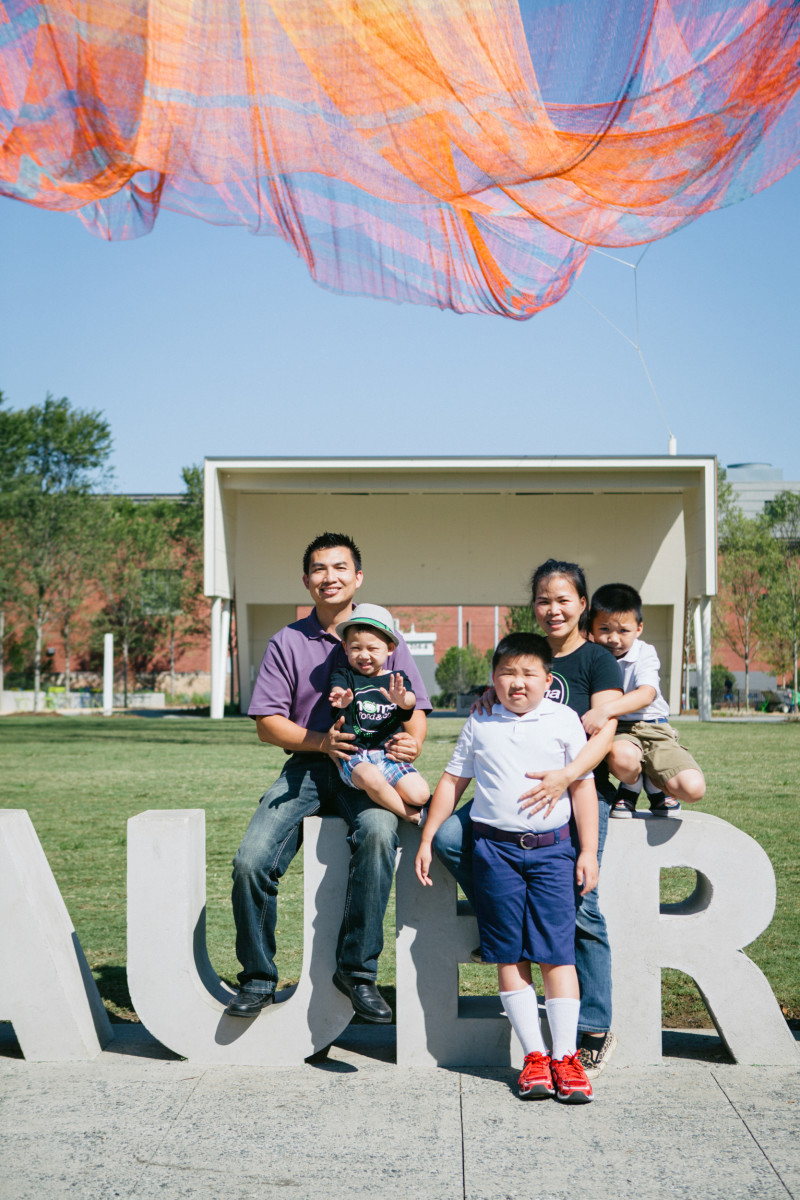 If you look at the logo, menu and website for local Greensboro restaurant nOma Food & Co and assume it is some shiny, hipster New York or crunchily, farm-to-table California chain, you are to be forgiven. The decidedly polished, fresh, clean and quite beautiful graphics and images are, however, home grown right here – born in the Boba House family, to be exact.
The striking chalkboard menu of nOma on Battleground, with its fun phonetic spelling of the Asian dishes and clever illustrations, was created free hand by long time Boba House server, Jenny Buchanan, while the nOma Food & Co logo and website came courtesy of Buchanan's boyfriend, John Iclef. Being better able to utilize the talents and skills of her staff drove Boba House owner and operator Kieuanh Ho to decide to open up a second restaurant in nOma Food & Co on Battleground in August of 2015 and then a third with nOma Food & Co at Le Bauer Park August of this year.
Ho conceived of the idea with friend and original partner Kelly Casteen (Ho has since bought Casteen out), as a way to continue to grow and support her staff and her family. "There's limited growth with the vegetarian market here. We love it, but it is a small market," says Ho. She cited a need to provide more career opportunities for current staff and others in this community and economy. "We have such a great staff here at Boba House," she says passionately, "And you have to grow or lose people."
Ho started Boba House back in 2003 (read more about Boba House here) on Tate Street after receiving a business degree from UNCG and brainstorming business ideas with her then boyfriend, now husband Kiet Nguyen. Wanting to take advantage of the growing popularity of bubble (or boba) teas while not competing directly with Tate Street Coffee next door, Ho decided on a vegetarian restaurant that would serve boba teas. Over a decade later, Boba House continues to thrive in its location with new generations of college students and years-long regulars dining side-by-side in its friendly, welcoming atmosphere.
While Boba House's fully vegetarian menu expresses Ho's compassion for all living animals, the healthy, easy and quick menu at nOma is an expression of her compassion for busy families and workers. A mother of four young boys and owner/operator of three restaurants, Ho understands the challenges of working full-time while wanting to spend time with family and put an appealing and healthy meal on the table at the end of the day. In fact, Ho often chooses to bring nOma food home to her hungry boys, who love its teriyaki chicken (based on the teriyaki sauce created in Boba House's kitchen) and the pork (based on a Thai recipe from Casteen's family).
Another family favorite is nOma's pho. "Pho is the backbone of Vietnamese life," laughs Ho. "We eat it for breakfast, lunch and dinner…and it's the perfect food after going out drinking or dancing." Traditional pho, however, is a time consuming dish. "It can take six, eight, 12 hours," shares Ho, "to get a pot of pho to full flavor. It's the meal your mother makes to welcome you home. It is not something to just cook up after work." Because of this, nOma offers a delicious, fully flavored pho for busy people to eat in or take out after work instead, fulfilling the promise it makes on its website to provide, "…meals you would find on families' dining tables throughout Asia."
The decision to serve foods with meat did not come easily to Ho, a long time vegetarian. "I do still suffer from some self-conflict," she says. In part to assuage those feelings and to fulfill her mission of compassion, she did insist that all dishes served at nOma have a vegan option. "Everything on the menu can be served fully vegan," she promises, "With all the sauces, broths, dishes, pots and pans kept separate."
As busy and full as Ho finds her life now, she sheepishly admits she does have further professional aspirations. "I would love to have a food truck in the future," she shares. "I would love to be able to see our sons working on it. We'd like to show them the importance of working hard to create opportunities for themselves." While both Ho and her husband are small business owners, the family's entrepreneurial spirit goes back at least one more generation.
Back in Vietnam, Ho's mother once operated a banh mi cart. "She would cook the meat at home in the morning, and then she and my sister would take the cart down to the market and sell the food." Ho's mother brought her family from Vietnam to the United States when Ho was 11. When asked if her mother is proud of her daughter's making such a success in the food industry here, Ho smiles and winces. "Some days she is proud, but some days she tells me I work too hard."