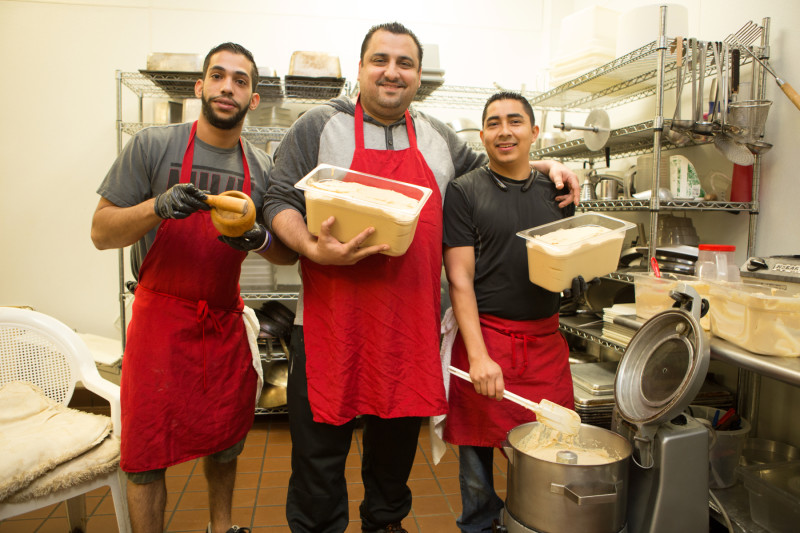 Maher Said, owner of Nazareth Bread, took a big risk starting the Middle Eastern/Greek restaurant on West Market Street in Greensboro.
"It was a 50/50 chance because you come into the south and really there are not many people familiar with this food."
It was hard to imagine how Nazareth Bread could be a risky enterprise after tasting one of the signature Entrees, the "Mixed Grill." The plate included delicious adana kabob, shish kabob, chicken kabob along with hummus and salad, all of which took up enough room on the plate to completely cover the homemade pita bread. I'm sure lots of people are happy that he took a chance, especially around lunchtime.
"I was willing to cook anything but I studied the area and I figured there's something missing here, Middle Eastern food. I could have only served hamburgers but I figure, you know, let's do something different. Let's really make it authentic."
Maher has too much knowledge of Middle Eastern cuisine to fit onto one menu. He's constantly inventing lunch specials so that even his most loyal customers can look forward to something new. One day the lunch special is grilled chicken chops smothered in a with sweet and spicy apple-flavored sauce and topped with feta cheese. The next day it's soup with peas, carrots, and potatoes cooked with a little mint. Then it's veal chops with ginger onion sauce.
Maher also provides a variety of American food, Burgers and Hoagies mostly, that are meant to attract customers aren't quite ready to try Middle Eastern food. The large menu spanning from one end of the serving counter to the other has Middle Eastern and Greek food on the left and American food on the right.
"That's where I was very careful. If a family comes maybe two are familiar with middle eastern food and three are not...they can grab a hamburger or they can grab a steak and cheese and then they can take a bight (of Middle Eastern food) from their friend."
The spacious restaurant is inside a building that once held a furniture store and later a commercial gym. Now Maher owns the building and has enough space to run an entire bakery as part of the operation. Besides the pita bread, He provides sesame bagels, bread, and other baked goods for a number of other businesses. Baklava and coconut macaroons are for sale at the counter. They homemade and it's obvious at first bight.
Maher is from Nazareth and came to New York in 1990. He went to culinary arts school and then worked at the Russian Tea Room, the iconic Manhattan restaurant that has been the swanky setting of, and inspiration for, several major motion pictures.
"I never even thought about working with Russian food, caviars and chicken kiev and all. In a couple of months, I picked up everything. I was as good as people who have been there for years. But If I had not had the experience, it would have been hard."
It doesn't take long to see that hospitality is valued at Nazareth Bread.
"Everybody is respected equally here. We're very happy to see different types of people. Different cultures. Different faiths. Different everything. It just makes it interesting. People love to see all these people sitting around each other. You can see the Priest. You can see the Rabbi. You can see the Imam. They all come and eat here."