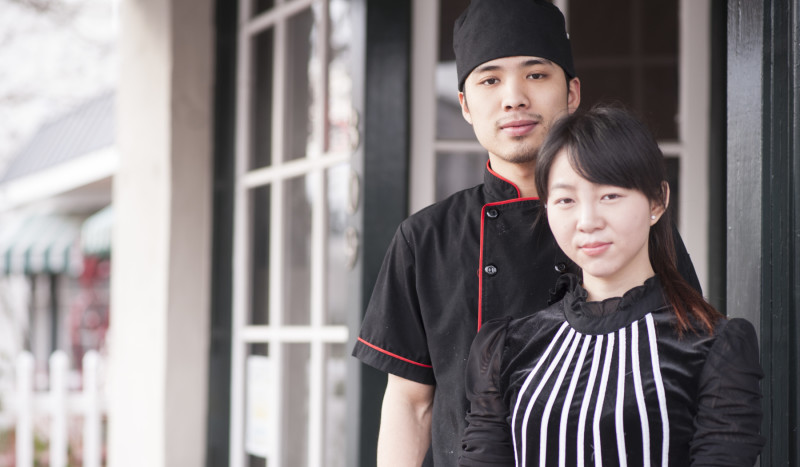 By all accounts, Mizumi Japanese restaurant, settled on a corner on State Street, is a typical Japanese restaurant. The neon "open" sign hanging in the storefront window, the dry erase board outside the door boasting specials, the hand written paper sign stuck on the door and even the bench with a beautifully painted koi all suggest a casual Asian dining experience. What they don't let on however, is the quality of the food and experience once inside.
As soon as customers walk in and turn the corner, instrumental Asian music heavy with piano melodies flows past, giving them a warm and inviting feeling. The inside of the restaurant is cozy and opens immediately into an area bordered by the sushi bar to the right and a line of tables to the left. The head sushi chef and owner of the restaurant greets them with a warm smile. "Welcome", he says.
Diners can choose to sit at the inviting sushi bar, front and center to the colorful array of fish in stock for the night, complete with a flat screen tv behind the bar, or they could venture up the steps towards the back where the experience continues. This second level of the restaurant is home to the authentic "tatami" style dining experience where even though the floor is not made of traditional bamboo, guests sit at a low table with cushions for seating and customers are required to take off their shoes — there's even a polite sign. Up a few more steps to the back is the final section complete with more tables and regular seating.
Besides the restaurant's intimate seating choices, the food sets Mizumi apart from the competition as well. The restaurant which has been open for about two years now is pretty traditional in Japanese fare, complete with agedashi tofu (deep fried tofu), shumai (shrimp dumplings), fried soft shell crab, and tako-su (thinly sliced octopus salad in sweet vinegar) among the appetizers. The entree section boasts recognizable hibachi (grilled) food from chicken to shrimp to scallops but also ventures to include bento boxes full of grilled eel and shrimp tempura. The real winner and draw for most patrons to Mizumi however is the sushi. Not only is it prepared excellently in traditional portions (no typical American sizes here), everything from the quality of the fish to the temperature of the rice is accurately crafted to make every piece a colorful treat.
As a Japanese-American who was born and raised in the States by two Japanese parents working in the restaurant industry, it's safe to say that I've had my share of both good and bad Japanese food. Both my parents grew up in Japan and met in the states ironically enough, in a Japanese restaurant in New York City. The rest is history and my dad worked as a sushi chef for years while my mom worked hard keeping an eye on my sister and I. Growing up in that food-centric environment made me very conscious of what I was eating, how everything was prepared, and what constituted good food. My mom taught me how to cook traditional meals slowly from the period when I was a young teenager up until I moved out of the house. The one thing I never properly learned how to make however was my favorite food, sushi. I would watch my dad roll sushi and observe the way he cut the fish, so gingerly and yet with accurate precision, taking care to make every piece just the same as the last. It was like an art to me and when I found Mizumi, an unassuming quaint sushi place near my house it was almost too good to be true but it just kept getting better. Mizumi may have a plethora of competitors in Greensboro alone but it has the one thing that hasn't been introduced in the area until it opened its doors two years ago and that is its all-you-can-eat option.
It seems that the little known phenomenon has yet to take off on the east coast in the US although some restaurants are already implementing it along the west coast, according to Jimmy, Mizumi's owner and head sushi chef. The idea is simple. You get the option to order as much as you want from a condensed menu of appetizers, sushi and dessert for a flat price. There is however, one small catch; anything left uneaten will be added to your bill at the end. This sounded to me like an entertaining game and with my excessive love and obsession with food, not eating everything was out of the question.
The story of how the restaurant came to be is also of particular interest. Jimmy and Candy, the owners of the restaurant are both Chinese. Jimmy, the head sushi chef is young and quietly charismatic. He can often be spotted making the colorful seafood creations we call sushi, taking great care to concoct every piece. He was born in China and moved to the U.S. about ten years ago to New York City and then to North Carolina in 2012. Like me, Jimmy was exposed to the restaurant industry from a young age, helping his family run a Chinese/Japanese fusion restaurant while in New York. When he moved to North Carolina, he did so to help his uncle run his Japanese restaurant and soon afterwards, Jimmy began taking steps to open his own restaurant. It may seem strange to some that he didn't open a Chinese restaurant and when confronted with the reason why, Jimmy simply proclaimed, "I like to eat sushi." Before moving to North Carolina he traveled some, including to Hawaii where there is a large population of Japanese immigrants. He explained that he fell in love with the food there, admiring the fresh fish used for sushi that came straight from the coast. His favorite types of sushi are salmon and tuna nigiri, which is sliced salmon and tuna on top of a carefully molded mound of sushi rice. Although these may be his favorite items on the menu, the rolls are really what drive customers into Mizumi. According to him, the Andy roll which is made up of spicy salmon and tuna, wrapped in soybean paper is a popular hit.
When asked what makes Mizumi different in the sea of Japanese restaurants in the area, he pointed to the good service, the choice to eat as much as you possibly can, and simply great sushi and once you get a taste, you'll see that he couldn't be more right.