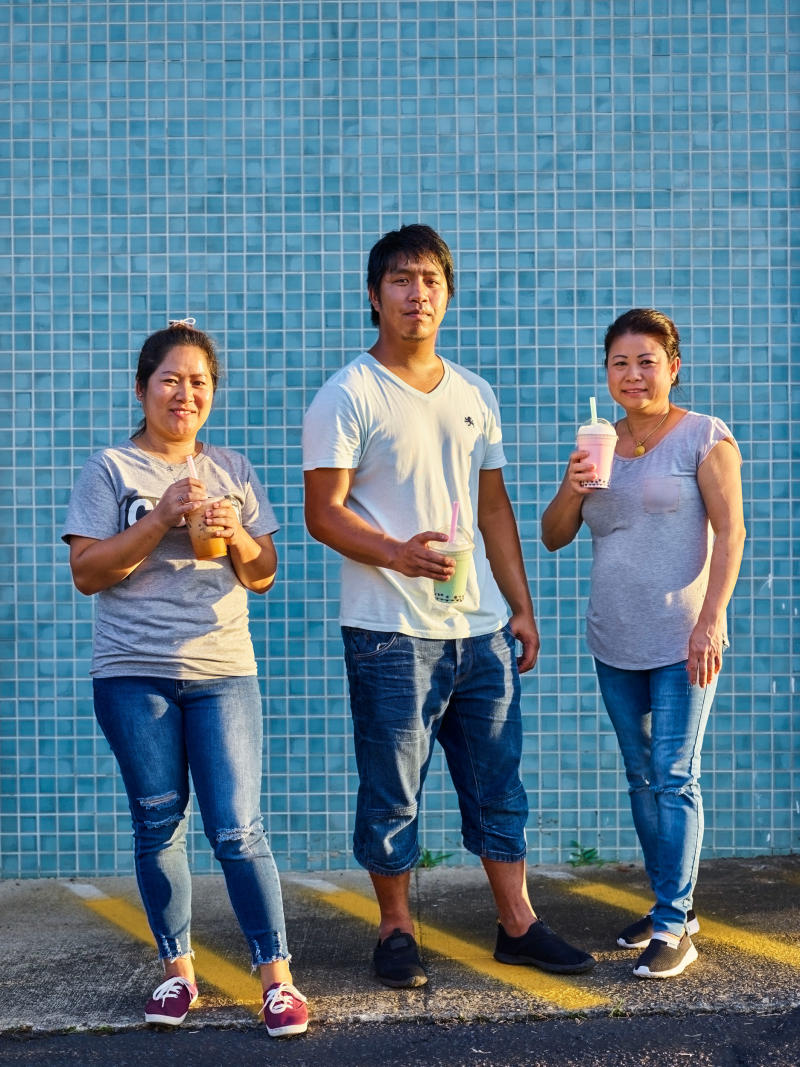 Those familiar with Vietnamese and Thai food will find similarities in the menu at The Lao Kitchen.
The little restaurant at 2601 West Gate City Blvd. is connected to Alounemay Asian Market, which is frequented by Vietnamese, Cambodian, Thai and Laotian customers.
The Lao Kitchen seats less than 25 customers, who can watch Thai, Lao or Vietnamese music videos on a television above the dining area. The menu is posted on the wall and includes a selection of Vietnamese sandwiches known as banh mi. Banh mi, which consists of a French-style baquette, filled with pork, chicken or tofu is garnished with fresh vegetables such as cilantro, carrots or cucumbers. The other half of the menu offers noodle and rice dishes that can be ordered with chicken or shrimp. They resemble items also found in many Thai restaurants. Larb. Papaya salad. Curry. Bubble tea. And this drink called a Mangonada.
The Lao Kitchen, like its chef owner, is unpretentious. Even its name is to the point. Orders are placed at the counter, and each dish is made to order by Mi Sinboualay or one of her two American-born children, Mimi or Suny. Dishes are served on disposable plates, sans fancy garnishes. But what you can expect is moderately-priced food prepared by experienced hands that have been cooking for others most of her life.
Mi Sinboualay runs a restaurant simply because she's always liked to cook. She admits it's nothing fancy, but her food is nourishing and delicious. She's a short woman with black hair that's pulled away from her smooth face. She smiles easily and says she began cooking for her family as a young girl in Laos because that work seemed easier than the other jobs that had to be done. She didn't want to carry water or wood for the fire. Both chores required walking several miles in the country. Farming also seemed to be a lot more strenuous than cooking. So she began cooking around age 7 because she preferred to stay at home.
Laos is a landlocked country of northeast-central mainland of Southeast Asia, smaller than Oregon. It is bordered by China, Vietnam, Cambodia, Thailand and Myanmar (formerly Burma).
Mi Sinboualay came to the U.S. in 1986 as a refugee. She was just 17-years-old. Laotian immigration to the U.S. began after the Vietnam War between the late 1970s and throughout the 1980s. Greensboro was not initially a resettlement site for Laotians. But since the mid-1980s, families, like the Sinboualays, came as secondary migrants from other states. Now, the Laotian population is estimated at about 1,000 people, according to UNCG's Center for New North Carolinians.
Sinboualay first settled in Montgomery, Alabama, then found her way to New Jersey, where her children were born. The family came to Greensboro when relatives asked her to open a grocery store here.
That led to her opening a coffee and sandwich shop, Pakse Cafe on Freeman Mill Road. The hidden gem in a strip mall drew a regular following. The opportunity to relocate in a new space on West Gate City Blvd. led to opening The Lao Kitchen about a year ago.
Her son, Suny, says her success is built on the coffee and her cooking. Thing is, both struggle to pinpoint what makes her food so good or how it differs from other Vietnamese and Thai restaurants in the area.
So, Lao food is...
In some ways, it is not as complex as Thai food.
Take the Thai version of papaya salad, for example. It will have a blend of sweet, spicy, bitter, salty and sour flavors. It's also garnished with peanuts. The Lao version of the dish withholds the peanuts, subbing in pork rinds as a topping. It's as spicy, but the flavor is strongly rooted in fish sauce.
Suny says Lao cooking incorporates less coconut milk and peanuts and way more fish sauce. And the rice is more sticky and eaten with the hands.
The beef jerky, sold on the counter for about $6, is worth every penny. Chris Russell, whose girlfriend is Hmong, lives within walking distance. He just discovered The Lao Kitchen and raves about the jerky, which is cooked on low heat for about five hours. Russell hides it from his girlfriend.
Customers start arriving at 9 a.m., when The Lao Kitchen opens. That's because their Southeast Asian customers want to start their day with the coffee that Suny raves about. It's similar to Vietnamese or Thai coffee, except that his mom uses a special blend of three kinds of coffee. Customers also like to pick up lunch items to take to work.
Suny says his family has been successful with the help of relatives and his parents' hard work.
"My parents' quick learning ability and their drive to be successful were probably what got them to be where they are today," he says, adding that they haven't pressured him to pursue any particular career path.
He's studying international global studies at UNCG, but is still determining what to do. He just knows this: "They have inspired me to work hard to make them proud, because I don't want to let them down after all they have done to get where they are."