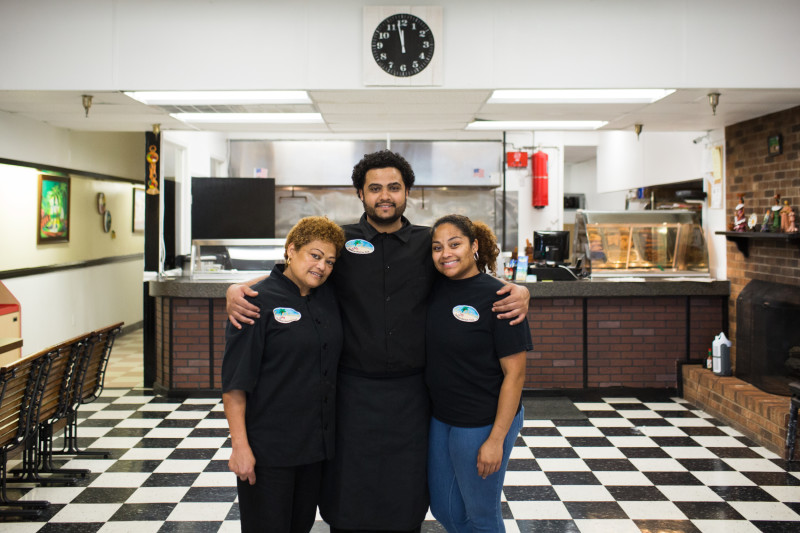 Before you head to the ballpark, Aaron Mustafa, says, this is what gets you ready. Fried salami atop a bed of mashed green plantains and pickled onions, a slab of fried cheese and a fried egg to the side. Los tres golpes - the three punches or the three blows - is the reason why Albert Pujols, Sammy Sosa and David Ortiz have so many homeruns under their belts, Mustafa says. The traditional Dominican breakfast platter is a big, heavy, flavorful plate of fuel.
"In Dominican cooking it's a lot of trying to make something out of nothing, poor man's food," he said. "It's also a lot of bold flavors. And it's hearty."
Mustafa serves up the dish along with mofongo, chimis, yellow rice and other Dominican fare at the La Palma Caribbean-American Food and Catering, in Greensboro. The place, which opened in July, is nestled in between a Mexican restaurant and a storefront church at Sedgefield Crossing. Behind glass at the counter, a marinated pork shoulder, blistered and golden brown, glistening with bits of fat and grease, takes center stage. Mustafa dips some empanadas into a deep fryer, and in the back workers peel plantains.
Overseeing the operation is Mustafa's mother Biana Guerrero, who said she regularly puts in 16-hour workdays.
Guerrero was born in La Romana, a town in the southeastern part of the Dominican Republic. Growing up she worked a streetside foodstand with her mother. "Very beautiful area," she said. "There were actually a lot of foreigners living there. Germans, Italians, Americans, British, who worked for the sugar companies. A lot of famous people have homes there too."
She came to the United States in 1990, her husband following a few months later, and lived in Rhode Island for 13 years. Guerrero said she always loved to cook, and for many years before moving to North Carolina ran a food truck. "We helped my mom prep for festivals, always hands on," her daughter Albiana Johnson said. "Like for a festival, we might do 10,000 empanadas, so there was a lot of prepping, a lot of physical, manual labor to get stuff done."
The family moved to Greensboro in 2013 to get away from the cold. Prior to opening the restaurant, Guerrero worked in the kitchen at the Sedgefield Country Club. Like the food truck, the restaurant is a family affair. Mustafa, who earned a culinary degree from Johnson & Wales University, works as chef. Johnson, who has a nursing degree, works front of the house.Their father, Alberto Mustafa, serves as a prep cook.
Johnson said the family wanted to do something akin to a New York takeout-style restaurant, with food served on styrofoam plates and containers, though the place does have booths lined up on either side of a checkered black and white linoleum floor.
In the kitchen, Mustafa whips up a Mofongo, a mashed potato-like dish made from plantains, and shapes it into a bowl. He pours a broth in it and places nine sauteed shrimp along the rim. The finished product looks like a lily in full bloom. The dish, perhaps the prettiest on the menu, is also the restaurant's most popular item, Mustafa said.
At the grill, he throws down some ham and marinated pork, along with ciabatta rolls. He melts some swiss cheese atop the pork, and assembles a Cuban sandwich. He plates it alongside some fried ripened plantains, yellow, caramelized and sweet as candy - though Mustafa says he uses no sugar or anything else in their preparation. He just lets the natural sweetness shine through.
He also makes some chips with green plantains, which have only a subtle sweetness and a chewy texture. He puts them next to a chimi, a long hamburger like sandwich that has lettuce, cabbage, and meat cooked in a soy-based sauce. "In Rhode Island we used to get pan de agua (water bread)," Mustafa said. "But you can't really find that kind of the bread in North Carolina, so we use an Italian roll, which is close."
The food, Mustafa said, can be heavy. It can filling. A good Dominican lunch, he said, will probably leave you not wanting another bite until 8 or 9 at night. "It'll sit in your stomach," he said. "But it also extracts the natural flavors of the ingredients, your garlic, your peppers. There's a lot of marinating. And every single dish that we do, me and mami put a lot of love into."