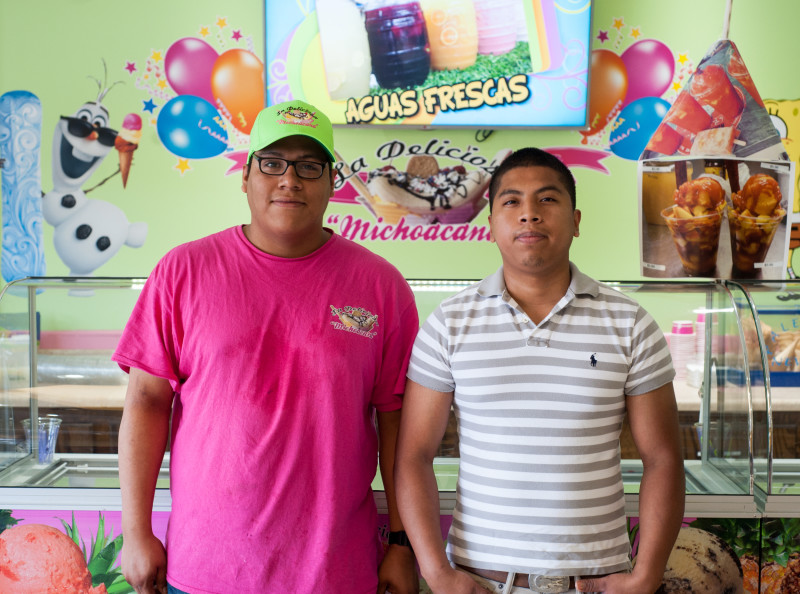 Your summer just got better. When it gets too hot, when the kids are too loud, when you're thirsty and hungry and sweaty and your day needs relief, there is a spot on Gate City Boulevard for you. Ladies and gentlemen: welcome to La Deliciosa Michoacana, your new hot pink, lime green taste oasis, and the only authentic Mexican ice cream joint in Greensboro.
La Deliciosa is nestled into a series of connected strip malls that includes a Mexican grocery store, taquerias, a western wear store, a Thai restaurant, and a cell phone shop. In other words, it feels like growth. Transition. Immigration. Newness.
The shop is run by Leonel Quinto, 22, and Eric Moran, 27, two brothers from the Bronx whose father, co-owner Ezequiel Moran, came from Mexico in the 1980s. They moved from New York to Philadelphia to Manassas, Va., and eventually landed in Raleigh, where their father opened his first Mexican ice cream shop, also called La Deliciosa Michoacana, which is still open in Raleigh.
Since they opened last May, says Leonel, "A lot of people come and they're like 'Let's see if it's really like Mexico!' They challenge us like that. But we try to bring home here."
While a company like Durham's Locopops can use authentic Mexican paletas (popsicles) as inspiration without primarily serving Hispanics, visiting La Deliciosa feels different. It's not cultural tourism. It's the real deal.
"We're proud of our heritage," says Eric. "We're proud to be Mexican-American."
What makes Mexican ice cream different from traditional American ice cream? For starters, it's not the freezer-burned old box of chocolate, vanilla, and strawberry. You won't go to La Deliciosa and find a candy chopper smothering stale, chemically-enhanced, gummy ice cream with sugar sauce.
Mexican ice cream is known for two things: its endless array of flavors, and its homemade freshness. La Deliciosa stands out for these things. "We're very unique," says Eric. "I haven't seen anyone else like us around here, not even around Raleigh."
When people talk about Mexican ice cream, they usually mean ice cream that traces its origins back to the state of Michoacan in western Mexico. Sometime in the '30s or '60s, depending on which origin story you believe, successful paleterias (popsicle stands) started popping up in Tocumbo, Michoacán. The bright, vibrant shops featured paletas made with fresh ingredients and local flavors.
The idea spread around Mexico, with many shops featuring the name La Michoacana (even though they were independently owned), with owners frequently claiming authenticity by pointing to a distant relative or connection from Michoacan. Like getting hipster coffee in Portland or riding 4-wheelers in Johnston County, having ice cream from Michoacan means you're getting the most authentic experience of its kind. You've dived into a culture, found a supreme expression of delight, and the only thing to do is enjoy. It's going to be delicious.
"This is part of our culture," says Leonel. "All our stuff is fresh. The lime ice cream, it's fresh squeezed. The tequila ice cream, we put real tequila in it. Everything is made fresh with real ingredients."
Those ingredients are different than what you might get elsewhere, too. While most places are serving ice cream with about 4% butterfat, La Deliciosa measures in at 14%. This ice cream is rich, flavorful, and very creamy.
The brothers spend a lot of their time every week peeling, chopping, pureeing, and juicing. The ice cream is made fresh weekly, and it shows in their shop's colorful, bright rows of ice cream. The pops are stacked by the dozen in video game colors.
There are classic flavors from the tropical fruit grown in Mexico, such as mangos, pineapples, and coconut; flavors that come from Mexican foods and desserts, such as tres leches, blackberry and cheese, and arroz con leche; and creative flavors invented for pure delight. When my daughter hesitated on which flavor to choose, Leonel immediately gave her a sample of cookie monster, a flavor as deep blue as a Giotto painting, except it's stuffed with Chips Ahoy, Oreos, and marshmallows.
When asked what flavor his mostly-Hispanic customers come in looking for, Quinto points to a stack of yellow mango popsicles in the freezer. They're a vibrant, luminous yellow - and dotted with rusty red from chili powder.
When I act surprised at the flavor combination of cream, mango, and chili powder, Quinto asks, "Mexicans eat all their stuff with hot sauce, so of course we're going to do this with our desserts, right?"
La Deliciosa, like a lot of heladerías (or ice cream shops), responds to demand from customers by frequently changing its ice cream flavors. Eric and Leonel are always looking for new flavors. They watch Instagram and Snapchat feeds to see what's trending. Their grandmother and relatives in Mexico City do field research to see what's happening back home. It's about being in touch with what people want, and also being in touch with what's next.
Right now, it's clear that the hottest thing is the mangonada. As I interview Leonel, a parade of customers came in during their lunch hour to get a mangonada, which is a kind of mango sundae. "This is the new trend," exclaims Leonel, "It started popping out of nowhere!"
The mangonada is a tall glass of oranges and reds. It starts with the drizzling Chamoy sauce, which is fermented, sweet and spicey, along with Valentina hot sauce. Add ice cream, layer in fresh chopped mango, more sauce, more ice cream, more sauce, and then top with a tamarind stick. It's a stack of sweetness literally dripping with tangy, sweet fruity flavors.
"The amount of mangonadas we sell is crazy," says Eric. "We can go through seven buckets of mango ice cream a week." A bucket is about 300 scoops. You can do the math.
Another thing about the mangonada that points to La Deliciosa's success: it's got cross-cultural appeal. At lunchtime, many of the orders I witnessed went to Asian customers.
Leonel says a lot of the appeal could come from similar ingredients used in the different food traditions, but Eric adds another element. "They're like Hispanics. They do a lot of word of mouth, like 'My friend told me about this place.'"
That sociability and community support has helped create a shop that feels like the best of Greensboro. Every Sunday, the place is packed with families as big as 12 or 15 people. They come to be together and mix with others.
"I see how kids come here, it's all mixed up," says Leonel. "A black kid with an Asian kid and a white kid and Hispanic kid. We're all learning from each other."
And, as he points out, every kid loves ice cream.