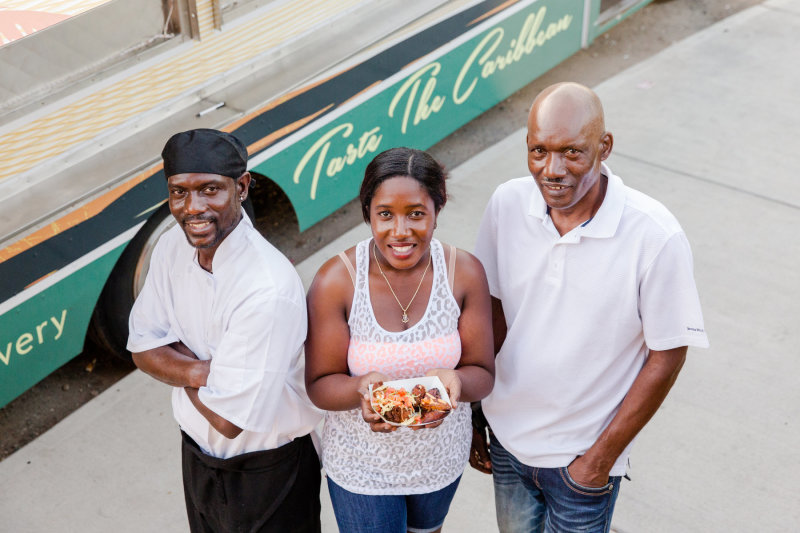 My first experience with King-Queen Haitian Cuisine was instantly familiar. As I parked near the food truck I immediately recognized the aromas of home. I could smell my mother's sweet plantains, or banane douce, wafting towards me. I almost couldn't believe it. As a Haitian-American raised in south Florida I am accustomed to easily finding Haitian cuisine. When I moved to Greensboro it became quickly apparent that this would no longer be the case. I had to accept that there was little, if any, Haitian presence and visibility in the area.
I walked over and introduced myself to Hilder and Djosen Vilnor, or DJ for short. I was welcomed with beautiful smiles. The Vilnors were genuinely interested in me, my friends who accompanied me, our experience. They had a yearning to introduce Haitian culture and food to us. When I observed the menu, I saw many familiar dishes: black rice made so by black bean sauce, Haitian style jerk and fried chicken, as well as fried pork with plantains.
My friend asked me to choose the dish that reminded me most of home: Haitian Griot with banane douce and pikles, spicy pickled vegetables (usually cabbage, carrots, green and red peppers) that are layered on top of the griot, or fried pork. In my first bite, I tasted many flavors, but if I could some it up, it would be: Family, intimacy, and above all, warmth.
DJ and Hilder are siblings. They were born in Au Borgne, Haiti. DJ was raised there until she was six years old and spent the next several years in Cap Haitien. Her father petitioned for her to come to America and she arrived in Greensboro in her early teens. Hilder arrived first by way of the Bahamas, then Miami. He did not like Miami, "There were way too many people, and the lifestyle I wanted wasn't there. People were constantly looking over their shoulder." So, he decided to move closer to his family here in Greensboro.
King-Queen Haitian Cuisine food truck was originally Hilder's idea. To generate income Hilder began working as a dishwasher for a local restaurant. After displaying a considerable amount of skill in the kitchen, he was quickly promoted after six months, despite speaking little English. Many of his work friends and customers suggested that he open a restaurant. He was reluctant to the idea but realized that many of his dishes were well liked. He had the skills and work ethic to make a restaurant possible. His interest in owning a restaurant was compelled also by the yearning to work for himself. Instead of opening a traditional restaurant, DJ and Hilder thought it better to start a food truck, learning from the past obstacles of friends who failed to maintain a Haitian restaurant in the area.
I asked Hilder and DJ to describe their favorite dishes on the menu. Hilder chose the Haitian griot, not only because it's absolutely delicious, and his best seller, but also because of what it represents. Griot and plantains are the two most common food choices at Haitian gatherings, festivals, and weddings. They bring the community together, which is something Hilder encourages in the Haitian community. DJ is allergic to pork, so her favorite choice is the poule frit, or Haitian fried chicken. She explains, "I specifically like the seasoning and that it's also well cooked. You know for certain you're eating fried chicken."
Haitian cuisine is different from other island cultures, DJ explains, "Although Haitians use similar ingredients as other island cultures, it is the way that the ingredients are approached that make Haitian food distinctive." Haitian people are extremely diligent with the cooking process, specifically allowing pork and chicken to marinate much longer than usual. There is an understanding that time produces the best product. This is a mentality that originates from a culture deeply influenced by agricultural beginnings. It takes time to plant and harvest. Eating from the land is sown deeply within the fabric of Haitian Culture. It is not uncommon to see different fruits and vegetables planted in the backyard of a Haitian household. Even now, where produce is readily available, there is a comfort in the work and patience it takes to grow your own food, and the time it takes to cook it.
The media portrays Haiti as an impoverished, malnourished country that is incapable of helping itself. As a result, public perception is quite negative. DJ and Hilder started this food truck as a means of changing this perspective. Haiti is a proud country and the only African nation in the western hemisphere to have successfully revolted against colonial slavery in 1804. We have a strong and beautiful culture, a culture of resilience that deserves celebration. King- Queen Haitian Cuisine shares this culture one conversation and delicious meal at a time.