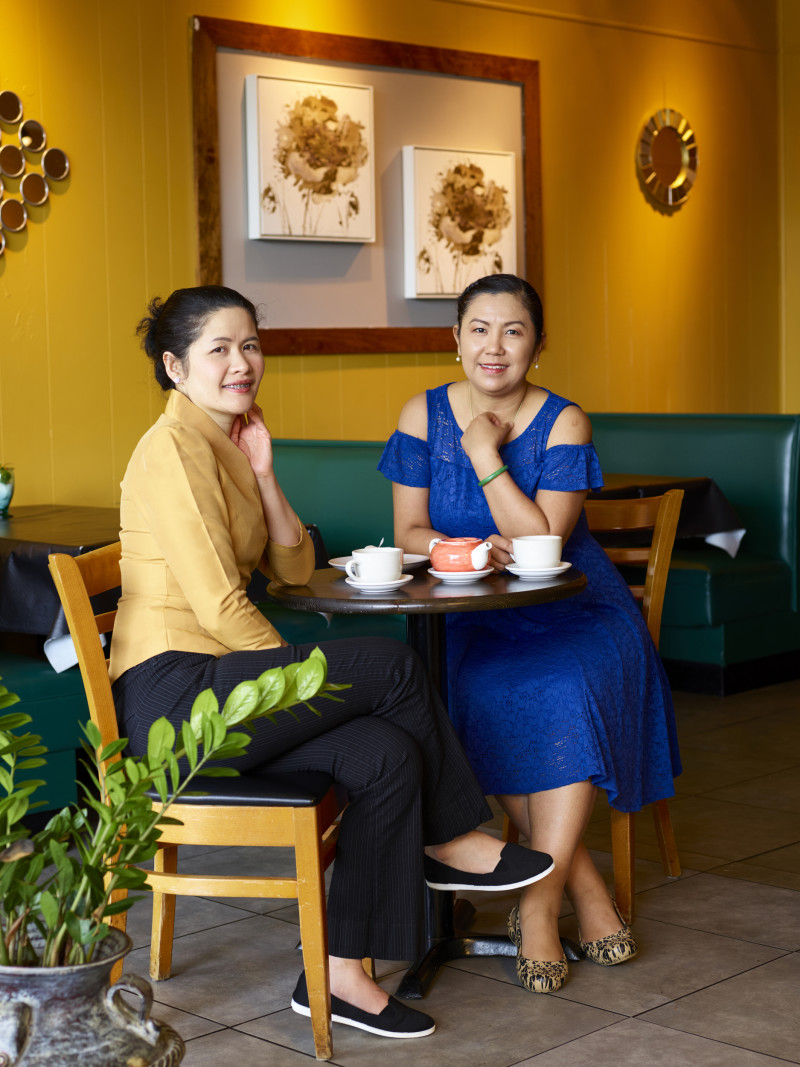 Pond Saykeo is from Thailand. Venekeo Ouanvilay is from Laos, which borders Thailand to the west and southwest. The women met and bonded while working at Panda Inn around 1999. They think of each other as sisters. Saykeo calls Ouanvilay her "Thai" sister. Now, they're also business partners.
In December, they became the new owners of Kin Thai Zabb Rice & Noodle restaurant in north High Point. The venture is one that friends and restaurant customers where they've worked have encouraged for years. Saykeo and Ouanvilay's story is one of friendship. Saykeo, who runs the kitchen, says she couldn't have opened the restaurant without friends.
"This place actually happened because people who used to be my customers - they feel like I'm their friend, their sister or their daughter. They feel comfortable and familiar," Saykeo says. "People help us and recommend us. This place is actually happening because of friends - Asian and non-Asian friends."
The "Thai" Sister
Saykeo didn't set out to be a chef or restaurant owner.
She graduated from the Civil Aviation Training Center in Thailand and was an air traffic controller. Her family knew the owners of Taste of Thai, so she came to Greensboro in 1996, seeking adventure. She worked at Taste of Thai, then Panda Inn, where she met Ouanvilay, about three years later.
Saykeo opened a restaurant in the Concord/Kannapolis area. After three years there, she returned to Greensboro and started waiting tables at Pho Hien Vuong, a popular Vietnamese restaurant. She got Ouanvilay a job there too. Their friendship grew and matured through the years. Saykeo's two older sons are autistic, and Ouanvilay helped with them when they were young.
"It's hard, really really hard to care for two young autistic boys," Saykeo says. Ouanvilay's children were around the same age, and she didn't work as much when they were children. Trust was a factor in the women becoming business partners.
"You can have a lot of friends, but there is something that you can trust in this person," Saykeo says of Ouanvilay. "I trust her."
They also respect each other. Ouanvilay, the more reserved of the two, regards Saykeo as her older sister. "She's my family now," Ouanvilay says. "I teach her to be a stronger woman," Saykeo says. "She's quiet. She's shy. My personality is I'm clear. I'm strong. But we can help each other. We can combine together and become something nice. We are both patient with each other."
Through their time at Pho Hien Vuong, the women talked about their future. "One day, I said to her, 'Hey, do we want to carry a tray (for someone else) for the rest of our lives? We should have something.'"
Saykeo, a fixture at Pho Hien Vuong 14 years, had started a side business of catering for Thai and Lao customers and began to think of doing more. Her sons were also getting older, and she wanted to provide employment opportunities for them. "They are high-functioning, but it's hard for them to get a job, with autism," Saykeo says. "They stay with us and feel good about what they're doing."
Now, they and their younger brother, who isn't autistic, help at the restaurant. In fact, both families work there, including Ouanvilay's son and daughter and Saykeo's brother and husband in his time off from his other job. Saykeo believes the family atmosphere makes customers feel at home. "You know what people want? Good food, good quality, good friendship. People really come (for that)," she says.
The American Sister
Jennie Lama became friends with Saykeo by frequenting Pho Hien Vuong. Saykeo calls Lama her "American sister" who has encouraged her to open her own restaurant for a long time.
Lama started eating at Pho Hien Vuong around 2005, while transitioning careers to become a yoga instructor. Lama was seeking fresh, healthy vegetarian food. She ordered the same dishes several times a week - vegetarian pho, imitation chicken with ginger or tofu with basil. Saykeo placed her order as soon as she saw her.
"She would make ginger tea for me. She was just a warm, welcoming, generous and considerate person," Lama says of Saykeo.
If the restaurant wasn't busy, the women talked. In time, Saykeo invited Lama to a family gathering, preparing vegetarian dishes just for her." She would say, 'I made this special for you. Only eat out of this bowl unless you're eating meat.' Half the time I didn't know what I was eating, but I trust her," Lama recalls.
They began spending more time as friends. Lama says they talked about hard times and challenges, but she always admired Saykeo's outlook.
"I always appreciated how positive and kind she was, even when complaining. It wasn't a complaint, it was, 'I don't know how to fix it and make it better.' It was good to have someone good and kind, trying to do the right thing," Lama says.
Lama hired Saykeo as a personal chef and recommended her to others. "Knowing how well she cooks, how lovely she is - and seeing how other people love her, I would say, 'When are you going to open your own restaurant?,'" Lama says. Saykeo's first day running Kin Thai was a snowy one. Roads were treacherous, but Saykeo told Lama it was an auspicious day and kept cooking.
"Pond and Van (Ouanvilay) are just beautiful people. The thing about Pond is that she's very, very genuine. She wears her heart on her sleeve. She's not a people pleaser, but she likes to see people smile and likes to see people happy," Lama says. "She's very skillful in making you feel like you're the most important person in her life and a part of her family."
Sidebar: About the food
According to Saykeo, the restaurant's name - Kin Thai Zabb (she pronounces it "sapp") - means eating delicious and flavorful Thai food. Saykeo says with so many Asian restaurants around her, she had to distinguish herself from even the other Thai restaurants.
"I do things authentic. My food, my taste and ingredients are authentic," she says. "So we get attention from Asian people and other people who travel."
The extensive menu includes both Thai and Lao dishes. As the name suggests, there are both rice and noodle dishes, including Pad Thai and pho (noodle soup). Fifteen options are offered for weekday lunch specials and include a variety of noodle and curry dishes.
Saykeo is most proud of the more traditional Thai and Lao dishes that aren't on many menus. Some of those include duck noodle soup, Yen Ta Four, or Thai noodle soup with a tomato sauce base and Sukiyaki. Inspired by the traditional Japanese hot pot of thinly sliced meat and vegetables in a soy sauce-based broth - the Thai version at Kin Thai, is made with clear noodles, a tomato base, garlic chili, red tofu paste, green onion and cilantro, added to broth.
A Chef's Special menu includes duck, whole fish, prawn, pork belly and mussel entrees.