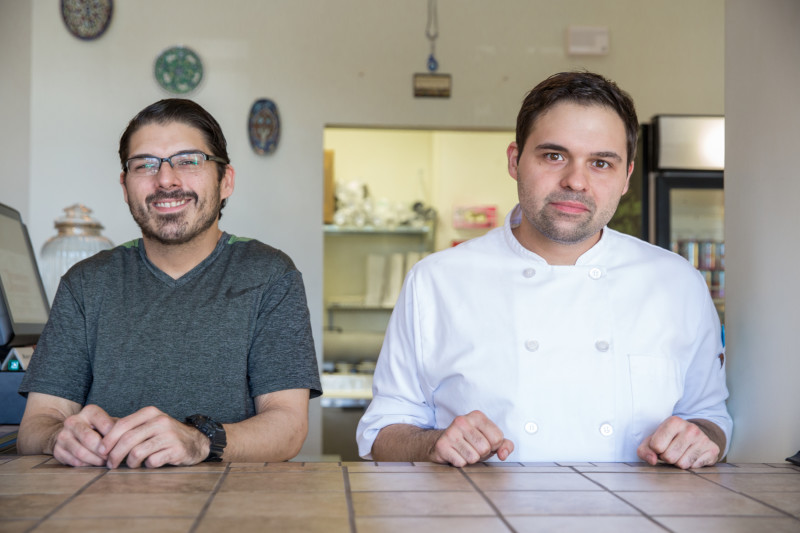 "Every real city in the world has a real downtown," Easa Hanhan says. "And we want to be part of that. We want to take part in Greensboro''s renaissance." " Hanhan and his brother, Omar, are after their own rebirth. They''ve just opened Jerusalem Market on Elm, a Middle Eastern restaurant, tucked in the bottom floor of a historic building on South Elm Street in downtown Greensboro.
The 300 block of Elm Street offers just about everything you could ask for. It''s got a bakery, a brewery, bookstore, bistro, bodega and billiards. It''s got great coffee, cheesecake and shepherd's pie. Patrons, workers and residents slip in and out of historic buildings constructed during architecture''s golden age. If there is an absolute middle of your city, this is it. And the Hanhan brothers have added one of Greensboro''s most esteemed international food businesses to this list.
With this restaurant, the brothers are trying something new from the Old City. For nearly 30 years, Saliba Hanhan, Easa and Omar''s father, has owned and operated the universally-revered Jerusalem Market, a grocery and deli on High Point Road in Greensboro near Jamestown.
Imagine large glass jars of dry goods with little stainless steel scoops, candies from the former Yugoslavia, shelves stocked with bottles of oil and vinegar, figurines and framed photos from the old world. All of these lead back to the deli counter where Saliba and his sons have served exquisite Middle Eastern food with a strict adherence to the traditions and recipes of Saliba''s mother and grandmother.
Falafel, hummus, tabouleh, baba ghanouj, stuffed grape leaves, all of the items you would expect from a Middle Eastern deli. And all of it prepared with the consistency and precision of a scientist. Saliba, a trained chemist, came to the United States in 1967, fleeing the violence of the Arab-Israeli War. After earning a graduate degree from Miami University in Ohio, he worked as a chemist in upstate New York before relocating to Greensboro and opening Jerusalem Market.
If you''ve ever had the privilege of meeting Saliba Hanhan – many, by now, have – this abrupt turn in his story becomes more plausible. The chemistry lab couldn''t hold him. Saliba is warmth. New and old, the relationships with his customers are his passion. If his food weren''t so good, you might wonder if he opened Jerusalem Market solely to build these relationships.
On Elm Street, you''ll often find Easa in conversation in the front of house or giving quick waves to familiar passersby through the large front window. Omar, having trained as a chef in Hong Kong and New York City, is the art and the science, the passionate creator in the kitchen.
""I''ve got the easy job; I''m the business guy,"" Easa says. "Omar is the artist. He''s had to develop his vision and then teach his staff to execute it at such a high level. To do both of those things well, you have to give your life to it."
The restaurant on Elm carries all the favorites patrons have come to love from Jerusalem Market. But Omar is going further with his food. ""We''ve maintained Dad''s original recipes,"" Easa says. "But Omar learned some amazing things in New York. "Our specials are adventurous. We might do a Spanish-style, paella-inspired dish one day. The next day, we might have an Italian-style, pasta dish on special. That''s something Dad would never ever do. But because we have such a strong core from what Dad has done all these years, it gives us the freedom to play and be more adventurous with our food.""
The brothers have even incorporated an in-house baker, giving him the freedom to take risks. ""He''ll do some tarts,"" Easa says. ""He''ll do chocolate chip cookies, even desserts with Fruit Loops. But we also have the baklava and Middle Eastern pastries. That duality is what we''re all about.""
As the brothers set out together on this new venture, they are, at once, resisting and embracing their father''s great legacy. ""The thing about Dad that sticks with us most is his commitment to making things their very best,"" Easa says. ""Why would you go to school and only go halfway? Why would you make this dish with mediocre ingredients? Always giving the very best to the food, to this business, to this community, that's what he''s left with us.""