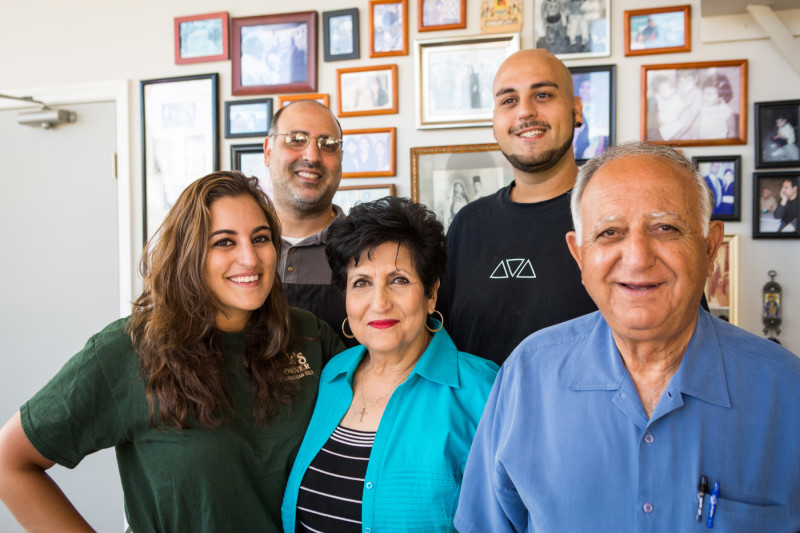 The first thing that greets you upon entering Jack's Corner Mediterranean is a wall of family photos. My eyes always flit to the image of a man with a tarboosh on his head and a cigar in his hand. This man, Jamil Essa Bishara, is my grandfather and namesake.
The story of Jack's Corner started when my seedo — Arabic for grandpa — first left our ancestral village, Ramallah, which means God's hill. He was barely in his teens.
He was among thousands who emigrated from the Eastern Mediterranean region known as Greater Syria toward the end of the Ottoman Empire, which had ruled there for hundreds of years.
It's hard to imagine the circumstances that would lead parents to send a boy to a strange place halfway around the world.
The photo shows a slight man, five foot seven at the most. By land and sea, Seedo Jamil made it to North Carolina, via South America, with no knowledge of English or Spanish. By bus and on foot, he made it as a peddler, selling and trading throughout the South.
He dutifully sent his earnings home to his family.
After a few years, with some cash in his pocket, he returned to Ramallah and married my grandmother Farha, or "joyous one."
My father, Essa, was conceived soon thereafter. But before he was born, Seedo Jamil had returned to America. Duty called. Even though the family grew much of the food it consumed, foraged for wild greens and herbs, and had groves of olive and fig trees, it was not enough. Opportunity lay elsewhere.
My grandfather's remittances provided comfort back home—a sturdy stone house with a capacious well. One side of the house was for my grandmother and father; the other was for my grandfather's brother, Matta, who was like a second grandfather to me, and his family of nine children.
My father grew up as an only child in a household that he shared with many cousins. He learned to fend for himself, but grew very close to his first cousin Nabeeh. They were more like brothers than cousins.
He excelled in school, for a few years attending the Ramallah Boys Friends School, built by Quakers in the late 1800s. He was a math whiz, with algebra and geometry as his specialties. He easily memorized lines out of Shakespeare's dramas and couplets from intricate classical Arabic poetry. He took pride in his high marks. Boys in the village were intimidated by my father's smarts and, if they crossed him, feared his wrath. He lifted weights with his best friend, Hanna Ganim, and was not above backing up his words with a fistfight.
He, Uncle Nabeeh, and other friends and cousins spent long hours in the valleys dotted with wild sage, fennel, thyme, mint, and hyssop. They lounged under olive trees that were planted during the Roman Empire and had been in the family for hundreds of years. They made slingshots to hunt pigeons and quails, and cooked them over an open fire.
They also played soccer in the narrow neighborhood alleys with balls pieced together from old rags and socks. My father was the goalkeeper, and Hanna was the striker.
Sixteen years passed before Seedo Jamil returned to Ramallah. My father was a young man when he finally met his father in the flesh.
Upon graduating at the top of his high school class, my father received an immediate offer from the headmaster to teach. He was known as an excellent but demanding teacher.
But teaching was not enough, either. In 1956 he and his father set off for America, once again in search of a better life. My father became a peddler, too.
Immigrants tend to flock together, and some of my father's relatives and childhood buddies also ended up in North Carolina. One day his friend Hanna—who would go on to become a soccer star at UNC-Chapel Hill and was lauded by Dean Smith—received a letter from Ramallah along with photos of his numerous siblings. When my father saw a photo of Hanna's younger sister, Najwah, he decided he wanted to marry her.
Back to Ramallah he and his father went by ship, with their cash savings concealed on their person. After some cajoling and negotiating between families, it was agreed that Essa and Najwah would be married. Their wedding took place in the Orthodox Church of Transfiguration in 1962.
My mother was 17 years old. She didn't know how to cook and hated mathematics.
For six months the newlyweds stayed in Ramallah. My mother knew little about managing a household. Due to substantial remittances from an uncle who had also gone to work in America, my mother's family had the wherewithal to employ maids and cooks.
She was relatively privileged by Ramallah standards at the time: she took piano lessons, sang in the choir, played tennis, and was among the first girls there to ride a bike. Her family was one of the few that owned a car, a huge, black 19[xx] Buick. They pronounced it "Bweak," rhyming with speak. They used it to shuttle the family of 10 kids between Ramallah and Jericho, where her family owned a winter home and a farm. There they had substantial citrus groves and also grew dates and bananas.
My mother had to learn quickly, because opportunity beckoned, and soon my parents were headed to North Carolina. They probably didn't know it at the time, or didn't want to admit it, but they would settle there permanently.
They had four children from 1963 to 1970: Judy, Ginah, James, and Jacob, in order. They told us that in Arabic the "g" and the "j" were one letter so that Ginah didn't feel like the odd one out. It was common to change Jamil, which means beautiful, to James.
My grandparents lived with us, as did my father's siblings, sister Wardeh and brother Bishara, whom he practically raised as his own children. They were more than 16 years his junior.
They eventually purchased a small house, which, to me as a child, always seemed to be bustling with cousins and commotion. There was, of course, lots of food and endless pots of thick Turkish coffee, from which wafted the sweet, warm scent of cardamom.
The coffee fueled animated conversations that took place in a language not totally my own, but whose rhythms, nuances, and color I loved and carefully absorbed. Little English was spoken at home. My oldest sister Judy did not know English when she entered kindergarten.
Our maternal grandmother Mareeka was a great storyteller. Despite the fact that her father was a high priest in the Orthodox Church, she read fortunes, a sacrilege, in the dried grounds plastered in random patterns on the side of small coffee cups. Fortune telling was the women's domain. Men were not welcome there.
My grandfather would sit in his usual spot on the rough, textured golden-yellow love seat, puffing away on a cigar. His English was scarce despite the fact that he lived and worked in the U.S. for most of his 72 years. What little English our paternal grandmother, Farha, learned came mostly by way of "See Dick Run" books that I or one of my siblings would read with her. She also picked up some choice words watching daytime soap operas, "The Young and the Restless" and "Guiding Light" being her favorites.
I listened closely to stories about their hardscrabble but happy lives fi al-bilad, back home, in the old country. They were stories of a simpler time, with no bills, no traffic, and no need to work ungodly hours or chase the almighty dollar. They spoke of a community in which everyone knew everyone else.
There was reverential talk about their olive, fig, and almond trees, as if they were part of the family. They spoke in superlatives: their grapevines bore the sweetest, plumpest fruit you could imagine. Fruits and vegetables burst with flavor like no others. The cactuses produced the juiciest prickly pears around.
Olive trees were especially sacred to them. They provided nourishment, protection, and medicine. There was hardly an affliction that a good rubbing of olive oil could not cure. Babies are anointed with the oil during baptisms in the Orthodox Church. The old folks would drink a small cup of olive oil each day, swearing it was the key to good health.
The family brought shoots of fig trees and heirloom vegetable seeds that were not readily available in America. Our yard blossomed with unusual varieties of cucumber, eggplant, squash, and fennel. We had around 20 fruit trees, mostly figs.
We grew a type of edible jute, an ancient Egyptian mallow called mulukhiyya. The plant is tall, with a thin stem and alternate leaves. It would invariably prompt an annual visit from the police who likely were summoned by neighbors who thought we were growing cannabis in our backyard. Those who know tell us that there is no resemblance at all between cannabis and mulukhiyya. My grandmother thought it was hilarious.
When visitors came over the first thing my family would do was to take them on a tour of the garden and trees, picking and sharing the produce right off the plant, talking about what works and what doesn't. Figs thrived in North Carolina's climate but, unfortunately, it could not support olive trees. My father became known as the Fig Man in Greensboro because he has provided hundreds of shoots from his own trees to family, friends, and even strangers, for whom he planted many of those shoots with his own hands.
My immediate family was firmly settled in North Carolina, but many of their relatives were scattered elsewhere in the U.S. Nonetheless, their hearts remained back home. The stories became more and more tinged with nostalgia.
When I finally made it to Ramallah, what I found did not jive with the stories I had heard all my life. The village had grown into a bustling city, with traffic jams that were as annoying as the Washington, DC beltway. It was dog-eat-dog, just like every other crowded metropolitan area. Everyone did not know everyone else. Internet cafés were plentiful, supermarkets hawked processed and packaged foods, and fruits and vegetables had little stickers on them. There was a backdrop of political tension and military occupation.
Sure, there were vestiges of the Ramallah I had heard so much about. But they were few, and you really had to search them out. I went to open farmers' markets to which villagers from the surrounding areas would bring their fruits and vegetables to sell. Hearing the earthy language that these villagers spoke reminded me more of my family than did the more urbane, modern dialect that had developed in the city. An elderly woman I encountered at the market refused to take my money for half a kilogram of plums she had just picked in her village when she learned that I was visiting for the first time. They were the most delicious plums I have ever eaten.
The reality I found there was not disappointing, though. Time does not stand still, and societies evolve in good ways and bad.
When I returned to Greensboro after college and my stint in the Middle East, I knew that I wanted to go to graduate school but didn't feel I was ready yet.
My brother Jack and I worked odd jobs, but strived for something more. My parents had dabbled in real estate and owned an old gas station on the corner of Spring Garden and Aycock Streets whose tenant's lease was about to expire. My mother, who, having raised four children, had become adept at managing people and developed into an amazing cook, brought up the idea of renovating the property and opening a restaurant. Self-reliance and independence were the goals.
We were apprehensive about the idea, but we went for it, pouring our resources and time into the project. We argued about what type of restaurant it should be. We wanted to sell some of the food we grew up with because that's what we knew best. But was Greensboro ready for it? Or should we sell hamburgers and fries? What would we call the place?
The renovation did not go smoothly because we had to battle with a crooked restaurant equipment supplier who tried, but failed, to fleece us. Uncle Nabeeh, an experienced restaurateur, came several times from Michigan to advise us. We learned the details of building and health codes. Ultimately we played it safe and decided to sell Mediterranean foods and straight-up deli sandwiches.
Soon after we opened, it became evident that our customers were more than ready for our food. To use the old expression, our falafel, hummus, tabouleh, and shawarma sold like hotcakes. Word quickly got around, and we started hearing more and more from customers who told us that Jack's Corner felt like home to them.
My grandfather's departure from Ramallah all those years ago paved the way for my family to be where it is now. Not far from the wall of photos there hangs a beautiful framed piece of original Arabic calligraphy that I picked up in Istanbul. The script reads ahlan wa sahlan, which is often translated as "welcome." Indeed, we at Jack's Corner repeat these words numerous times until our guests settle in. The words mean something deeper and more poetic, however. Ahlan wa sahlan. Like family, be at ease.