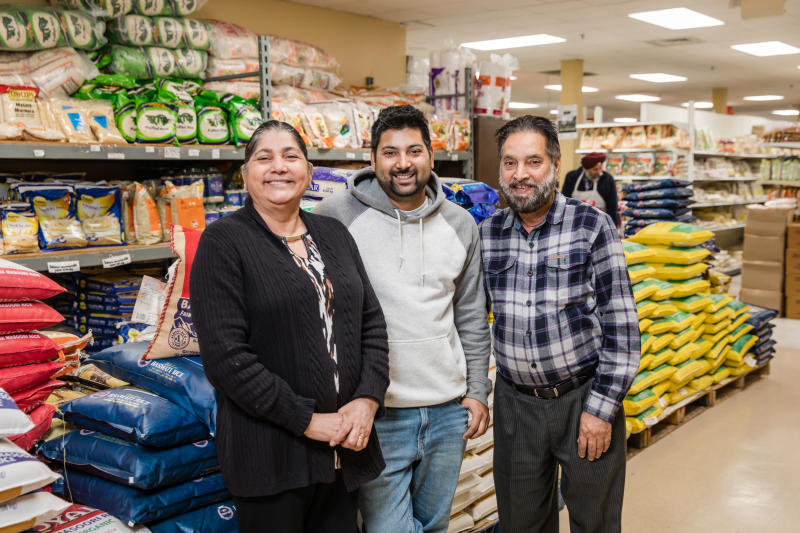 In 2008 when the world's economy was collapsing, Gurvinder "Lucky" Singh owner of Indu Convenient Store on West Market Street got his, well, lucky break.
"People who lost jobs in big cities, people who sold their businesses came to smaller cities," says Singh. He notes many tech and banking companies moved their operations to smaller areas like the Triad, which in turn created a surge in the Indian population.
"That helped me out," he says. "I expanded from 1,000 square feet to 5,000 square feet."
Fresh out of Western Guilford High School in 2005, Singh opened Indu Convenient Store. While working nights at Best Diner, West Market Street's all-night greasy spoon, he often drove past FantaCity international shopping center just taking shape around the now-famous Super G international supermarket. On a handshake deal with Mr. Kim, owner of Super G, Singh secured a small spot in the shopping center.
Singh grew up in Punjab, a state in Northern India bordering Pakistan, and the birthplace of the Sikh religion. "We were farmers," he says. "We used to grow rice, wheat and sugarcane. Vegetables in the front, closer to the home. We had about 7 acres. We had mango trees—all different varieties."
In Greensboro, Singh's uncle was an engineer at Volvo Trucks. "He invented one wire that could do the brake light and the turn signal. He saved them $1 per unit—a couple million dollars a year," says Singh, who came with his family to the United States in 2001. "Volvo is the reason we're here in Greensboro."
Over the years Singh has become a master merchant, bit by bit, tweaking Indu for maximum efficiency for himself, his staff, and his customers.
The herb and spice aisles are the heart of Indu. "This is where a lot of stuff gets confused. Somebody might ask for cumin. We have many words for it. So I say, 'Is this the word?' And they say, 'Yes,' or 'Not this.'" Because there are so many South Asian dialects, lots of pointing and nodding happens in this section, so Singh keeps it up front, easy access.
A few aisles over is the premixed spice section, often used by students or even more experienced cooks who are making a dish for the first time. "They'll come in with a big list," says Singh. "It would probably cost them $200 to do the whole list. So we ask them, 'What are you making? Here is a shortcut.'"
Next, is the frozen and refrigerated section for the microwave cook. Rows and rows of ready-to-heat vegetarian dishes, then non-vegetarian dishes (in separate coolers of course), cheese, frozen veggies, and then finally frozen naan breads.
Many Indians are vegetarian, and those who are Sikh don't consume or touch any meat products—making the separate freezer cases a necessity.
Dairy is another matter, and is regularly consumed in Indian culture. If you order tea, expect it to come with milk. Yogurt is used prolifically. Paneer, a fresh curd cheese, is also very popular.
To Singh, veganism is a concept that couldn't exist in India. "You don't have to be vegan in India because you have a cow at your house. It's right there, it's not in a cage, it's not locked up. There's freedom around it. It's never going to the butchery"
At the very back of Indu, you'll find stacks on stacks of wheat flours and rice—the biggest sellers in an Indian grocery store. Luxurious long-grain, everyday short-grain, and even puffed rice. "If they're a student," says Singh, "they might get the four pound bag. A couple, the 10 pound. A four-person family, the 20 pound," explaining that most Indian families cook every day.
Up the aisle from the bulk grains, is the fresh produce. Here you'll find common fruits and vegetables like beets and limes alongside snake gourds, curry leaves, and giant winter melon.
As you circle back to the front of the store, you'll come to the restaurant. A big glass window lets you peek into the kitchen where chef Sekhon Harbhjan is at work. Singh went looking for a chef worthy of Indu, and legend led him to Fresno, California where he found Harbhjan, who came to Greensboro on Singh's promise of a fully vegetarian kitchen.
Before Singh added the restaurant to Indu in 2013, he first looked around the city at places like Taaza, Saffron, Tandoor and Sona's. Not only is he close friends with the owners of each of these Indian restaurants, but he also often supplies them with spices and grains. With these relationships to balance, he had to ensure Indu's menu was unique.
"I wanted to do a really cheap menu. We have students that come in. I wanted to provide something where you can spend $4 and have a really good lunch or dinner."
And good it is.
An easy entry into the menu is the Punjabi thali veg, which is, in essence, a sampler. The circular tray is a pinwheel of flavor: Rice in the center anchors it while dishes like chole (chickpeas, onion, garlic, ginger, chilies, and spices like cumin and coriander), dal makni (a lentil and kidney bean dish), and rajma (kidney beans in a gravy-like sauce) circle the outside.
Day-to-day the thali sampler stays the same with one slot reserved for the special of the day. A large thali comes with eight items surrounding the rice, while a smaller one comes with five.
The more you buy, the cheaper each item becomes. One small thali for $8, 2 for $10, and so on.
If the thali format isn't enough fun for you, order up the pani puri. "It's a very famous street food in India," says Singh. Puri is a crispy, puffed bread. First, you break the top, creating a tiny bowl. Next, fill it with a mixture of potato and chickpea. Finally, in your choice of a sweet or spicy water, "You dip it and chug it," says Singh.
Other menu items include spring rolls, curries, samosas (a pastry-like dish filled with potatoes and chickpeas), pakora (fried vegetables), and andhra chilli bajji (a stuffed pepper).
The dining area is small and cozy. Regulars move in and out, and visit together as the clerk checks out grocery customers nearby. Singh's mother, Baljit, takes down a to-go order over the phone. You can feel the connections, the family, the vibes.
Lucky Singh set out to open another Indian convenience store, and ended up filling a niche in the exceedingly crowded Indian food world of Greensboro.
Indu is a place all its own.