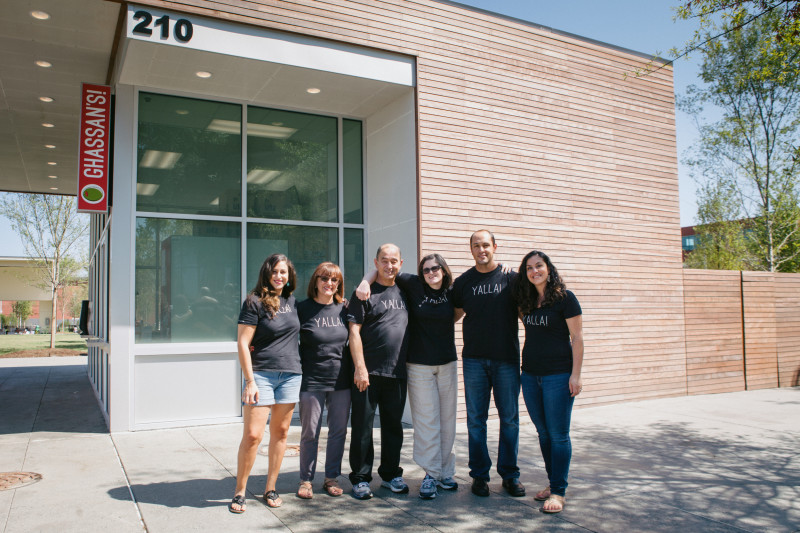 His ancestors are the ancient Phoenicians, well known as great traders of the sea, always sailing toward the unknown.
When the Lebanese Civil War erupted in 1975, Khaled Fleihan was running his family's wholesale grocery business on the Green Line in central Beirut, the dividing line between the warring East and West sides of the city. What began as a conflict between right wing nationalists and left wing socialists, later developed into a religious war between Christians and Muslims. Khaled's home was demolished and his father urged him to flee Beirut. And so Khaled began his journey to the United States, into the unknown, as his ancestors before him.
After landing first in Raleigh, Khaled and his brother Ghassan, decided to open a restaurant in Greensboro at the now famous flagship location on High Point Road. They acquired what was then a pancake house with a pretty bad reputation, struggling to make the business work, attracting the usual late-night miscreants.
But, after seeing Mediterranean food succeed in Raleigh, the brothers, along with Khaled's wife, May, made the decision to try it in Greensboro, a place wholly unfamiliar to the cuisine.
May grew up in Beirut, studying French literature, and like many young intellectuals of this era, spent her time in political movements during the 1960s. Khaled, the self-taught entrepreneur, would often start political arguments with May, anything to get the attention of the beautiful girl, eventually charming his way to her heart.
Lebanon, the small, beautiful, Mediterranean country in West Asia is long considered the mixing bowl of so many civilized peoples, races, and religions, which have, for the most part, cooperated to promote tolerance in the land. Open-minded, ancient, progressive, this is Lebanon.
And Beirut, centrally located along Lebanon's Mediterranean coast, brimming with populations from across the globe, so cosmopolitan, it is famously known as the "Paris of the Middle East," a haven for intellectuals, global commerce, and tourism.
Things were slow for Ghassan's in the first months. The brothers spent most of their time playing backgammon, waiting for the random customer to happen through. But, after a feature article in the News & Record from local legend Jerry Bledsoe, everything changed. The next day, there was a line out the door. The Fleihans were now facing a demand for which they were not prepared.
At first, the customers where mostly northerners, people who were familiar with the cuisine from restaurants in the bigger cities of the Northeast. But, more articles followed and the customers kept coming.
After a few years, the family opened the Cornwalis location. A few years after that, the Battleground location came online.
Khaled and May's first child, Lina, was always around. So much so that she thought Ghassan's was her actual home. She was the greeter, knew all the regulars' names, often sat down and joined the customers as they dined. She loved every minute of it. The restaurant was always something cool for her, even as she became an adolescent. But, after school, she left and didn't look back. Lina had dreams of the big city. She was gone. D.C., New York, Los Angeles. She was a buyer for Saks Fifth Avenue at one point. But, after years in the advertising and marketing world, she yearned to work for something that she truly believed in. So she pitched the idea to her father to come back to Ghassan's and use her expertise to help the business. Lina saw a role for herself, helping the business stand out among the now many competitors in the area.
Ziad, Lina's younger brother, championed the idea. After college he began managing a location, and realized that the business needed to evolve. What began as a business model for one restaurant was now struggling to meet the demands of multiple locations. Ziad also knew that with Lina on board, he would now have another advocate for new ideas. A progressive majority.
40 years after that crucial Bledsoe article, and Ghassan's has expanded to four locations, including the latest addition in UNCG's Elliot University Center. Every week, to this day, May still makes the famous hummus from scratch.
When I finally arrived in Greensboro, Khaled was such a welcoming presence for me. I left my home in Iraq after the war obliterated my country, scattering my friends and family to the wind. I found a certain kind of refuge in Beirut before coming to Greensboro.
Soon after my arrival, Khaled and his family hired me on at Ghassan's. It was a difficult time for me. I was thousands of miles from everything dear to me. But, working with Khaled brought peace to my life. Because I was so fresh from Lebanon, a place so close to my heart, I could talk to Khaled about these familiar things. The complex politics of the region, everyday life in Beirut. We discovered we had mutual contacts, knew the same people. This interaction with Khaled gave me solace at a time when I needed it most. I began to love Ghassan's as my own. The Fleihans were like family.
I was a bitter man at the time. But, Khaled told me very early on that if I want to find any happiness or success here, I have to open myself to love the people around me. I'll never forget that. I see it in him every time he puts the apron on. That's when he seems happiest. His customers are everything to him. He'll lean over to me in the kitchen and whisper for me to add more onions, because he knows that particular customer likes onions. He sincerely knows them, cares for them, these friends he's made over four decades.