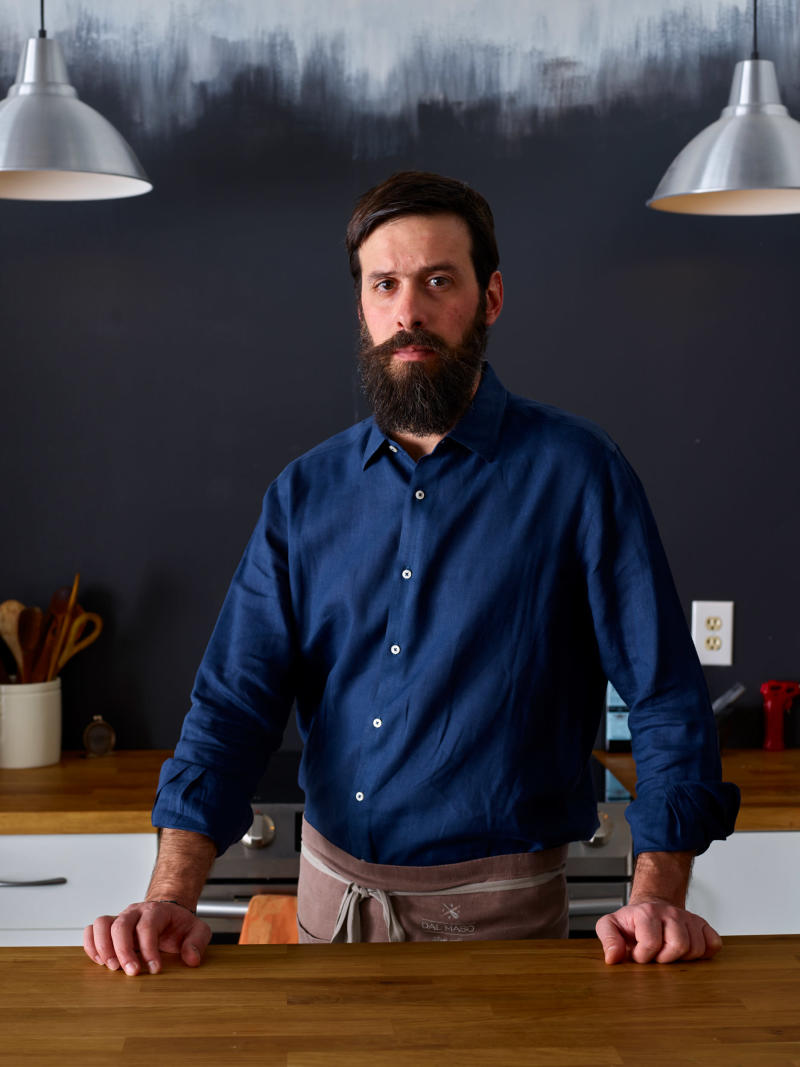 In Marco Dal Maso's world, pasta doesn't come prepackaged from a box or bag. In his world, pasta is made by hand. Semolina. All-purpose flour. Eggs. Salt. The art of making it is both a way of life and an expression of love.
This is a love story, really. His love for pasta comes from memories of meals prepared by his Italian father and grandmother and then shared with the family. Dal Maso carries on that tradition of cooking pasta for his loved ones. It's how he wooed his wife. On their second date, he invited her for dinner and made penne al Salmone.
Dal Maso is ready to share that love with Triad diners at the next Ethnosh event on Sunday Feb. 9 at 5pm. At the NoshUp, you can meet Marco, taste his handmade pasta, and enjoy a live pasta-making demonstration during a casual, three-course Italian dinner, featuring two of Marco's signature pastas. Guests are encouraged to bring their own beverage of choice. Electronic reservations are required to attend.
His artisan pasta has made its way onto local plates since 2016. You may have come across Dal Maso Pasta at the Greensboro Farmers Curb Market downtown or the Corner Farmers Market in the Lindley Park neighborhood. White and Wood features his fettuccine on the dinner menu, and his frozen vegetarian lasagnas are stocked at Deep Roots Market and The Market at Summerfield Farms. The lasagnas are made with béchamel sauce, which reflects his family's northern Italian roots. Americans are more familiar with the marinara influence of southern Italy. The recipes come from his Italian grandmother, or Nonna.
"She made the most amazing food," he says. "My Nonna was the greatest cook ever."
Dal Maso's venture into markets and restaurants is a natural extension of his life experience. Before he became a Triad transplant, he was a kid in Venezuela. His father, an advertising photographer, owned an Italian restaurant for more than 20 years. Although his father no longer owns the restaurant, he still sells pasta in Venezuela.
But as a kid, Dal Maso didn't always have to go to his father's restaurant for good food. His father was one of those cooks who could open the refrigerator, pull out a few things and transform them into an amazing meal. His father did the day-to-day cooking, while his mother's specialty was desserts. Dal Maso's fondest childhood memories are of his father making pasta at the kitchen counter. He and his brothers, Diego and Paolo, who is his twin, watched in anticipation.
Their father, who is very detail-oriented, took his time with the preparation, explaining and repeating everything he did several times.
"He would always say, 'Look, look, look' when I became distracted," Dal Maso says.
Dal Maso was so young that he can't even remember the first time he made his own pasta. He just remembers that it came out al dente - perfect.
After they cooked together, the family ate together, without the distraction of a television. They simply enjoyed the food and each other's company.
"I remember my brothers and I asking him for more sauce in our pasta," Dal Masorecalls. "He would tell us that the right amount of sauce would let you savor the taste of the pasta."
When it came time to start a career, Dal Maso didn't initially follow his gut. In Venezuela, he became an industrial designer and worked for a furniture company. He and some friends also started their own company. He loved his career, but he couldn't ignore his other passion: cooking. He also worked for a seafood delivery company in Caracas.
When the political climate in Venezuela worsened, Dal Maso and his wife, Adriana, moved to Miami. A friend opened an arepa business, La Latina, there. Arepas originate from the northern region of South America, and are made of corn flour. Smaller and thicker than tortillas, once cooked, they can be eaten like a sandwich with meat, cheese and vegetables. Dal Maso managed the arepa business. He and Adriana, moved to Greensboro in 2014, for her job with Volvo.
Arepas and pasta are on a regular meal rotation at the Dal Maso home, although they find cooking a bit more challenging these days. Their daughter, Maia, was born in November. It goes without saying that she will grow up watching her father making pasta at the kitchen counter.
Dal Maso hopes to introduce more people to his products through Ethnosh and more events like it. His enthusiasm and passion for pasta is infectious. He shares the philosophy of Italy's most famous countryman, Federico Fellini, who was known to have said: "Life is a combination of magic and pasta."