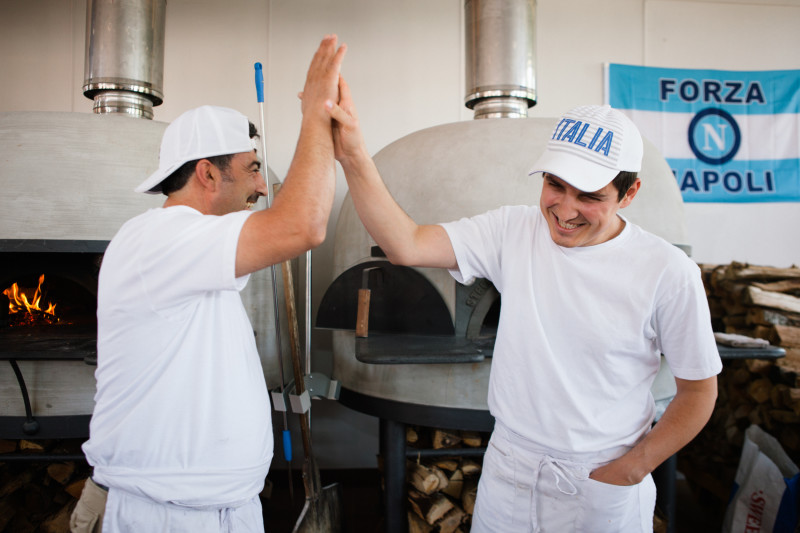 Joseph Ozbey. Yilmaz Guver. Adam Aksoy. Three cousins. That's where the Cugino comes in.
Cugino means cousin in Italian. And the Forno - well, that's the heartbeat of it all. Forno means oven. At the pizzeria Cugino Forno, there are three of them. One for each cousin. Those ovens are something.
They may be fiery behemoths at the back of the restaurant, but they are central to its operations. They are 7,000 pounds of sand and stone from Mt. Vesuvius in Napoli, Italy. The wood stacked neatly underneath each is hickory and oak. The fires are never extinguished. Joseph even returns to the restaurant in the middle of the night to ensure they stay lit. The heat is volcanic - 900 to 1,100 degrees. So hot a pizza cooks in 90 seconds.
But you want to hear more about the pizza, right? Let's start with what you won't get here. You won't get pineapple on pizza. You can't order half pepperoni and half cheese. There are no substitutions. And the cousins will never deliver.
Here's what you will get. Handmade Neapolitan style pizza to order with just the right amount of sauce, cheese and toppings. When hot, the thin tip of each slice nearly melts in your mouth. The crispy, just slightly charred crust gives it an earthy, flavorful balance. Most of the ingredients at Cugino Forno are imported from Italy: the San Marzano tomato sauce, Buffalo mozzarella and the flour for the pizza dough. Even the wine is imported. There are about 10 pizza options, but the best sellers are the traditional Americano (pepperoni) and Margherita, with tomato, mozzarella and basil.
Ozbey, who travels to Italy at least once a year, has a favorite pizza spot there. It's called L'Antica Pizzeria da Michele in Naples. There's no menu. Just two kinds of pizza - one with just marinara and Margherita. Customers wait at least 45 minutes to get inside. It's simple, but the process and quality of the ingredients is incredible, Ozbey says.
"Simplicity. I believe simplicity is the ultimate sophistication," he says. His love and affection for pizza is even apparent in the way he says the word. "Pee-zzah." Not "petes ah," the way American say it. Ozbey doesn't run into many people who won't profess an enthusiastic love for his favorite food.
"When you ask anyone on the street if they like pizza, they will say 'No.' They will say, 'I love pizza,'" Ozbey says drawing out the word "love" with a smile.
None of the cousins are Italian. They are Turkish. Ozbey, who is Kurdish, came to the U.S. in 2009 to study English at Georgia Tech. He was so excited to be invited to his first college pizza party. Until he saw the pizza. He couldn't eat it. He still went to pizza parties, but not for the pizza.
Ozbey says bread is a staple in both Turkish and Italian culture. "Italy is really good at it," he says.
When he set out to open a pizzeria, he visited Italy several times to learn how to make traditional pizzas. It took a few months to perfect the dough. So many factors can affect it, including the weather and humidity. He has plenty of scars along his forearms for the times things didn't go well between oven and dough.
"Basically, I think about oven and dough when I'm sleeping," he says.
In 2016, he drove 16,552 miles in two months, searching for the perfect spot for his pizzeria. He visited Greenville, N.C., Asheville, Charlotte, Raleigh and Durham. He researched buildings throughout North Carolina until he found Revolution Mill, the historic textile mill.
"Revolution Mill is American heritage, and pizza is Italian history," Ozbey said. Their family style restaurant opened in March. It's open from 11 a.m.-9 p.m., daily - or until they run out of pizza dough.
Orders are placed at a register at the entrance. Customers grab their own drinks from the coolers. Seating is at long picnic tables. A roll of paper towels is at each. Pizzas are delivered on aluminum trays. Self-serve condiments are on a table in front of the ovens. It's casual because Ozbey wants people to feel as if they are at home. If they want something to drink, they can grab it themselves. Want more condiments? Help yourself.
"If you think about your childhood, all the good memories are around the dining room table. We love pizza, and we love getting people around the table," he says.