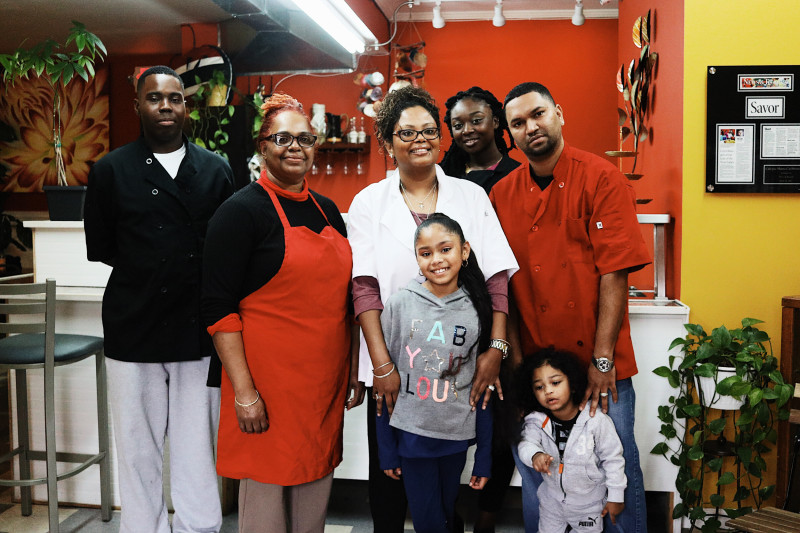 Husband and wife owners of Calypso Mama Caribbean Café Junior Nangoo and Donna Kellawan trace their roots to Trinidad and Guyana, respectively. Trinidad is an island nation in the Caribbean that shares statehood with Tobago. Infused with African, Chinese, British, and Indian heritage, it is a cultural melting pot where the impact of these myriad influences is evident in every aspect of life from religion and education to culinary styles.
Guyana is situated on the northern tip of South America and due to its proximity to the Caribbean, the country shares many of the same influences as the islands that primarily define the former.
The couple relocated to Greensboro from Brooklyn, New York in 2005 after visiting relatives. Captivated by the spring-like weather in early winter, they didn't think too long about making Greensboro their home in the South.
In just three years since its appearance on the Greensboro culinary scene, Calypso Mama has established itself as the preeminent Caribbean restaurant in the Triad. Situated on the west end of Phillips Avenue between a barbershop and a convenience store, the establishment's bright colored sign is hard to miss from the road.
Once you enter the cozy eatery, bright colors, and art featuring palm trees and island scenery adorn each wall and serve as the perfect contrast to the weathered brick exterior of the building.
Soca music, which infuses calypso with funk, soul, and cadence, fills the air. A wonderful mix of curry and spices transports visitors to the Caribbean in all of its diversity.
Junior serves as the business' liaison to the community, planning events and working with customers on catering and planning services. Donna is the head chef and is assisted by her aunt Gwendolyn, along with staff members and family friends, Assiyatou and Harold.
Starting a restaurant was not in the family's plans. Before coming to Greensboro, Donna's career was primarily centered around supporting new business startups and helping existing businesses with day-to-day operations. It was when her cooking skills caught the attention of friends and family that she first gave thought to opening a business of her own.
"You just don't know what you have until you start doing it," Donna remarked to me as our tour took us into the kitchen. The first food I sampled was a plate that consisted of curried goat, stewed chicken, and cabbage. At first bite, it became apparent to me why this food goes fast.
The goat melts in your mouth with a tenderness that is hard to find elsewhere. The chicken is slow-cooked and savory with a powerful curry flavor. The cabbage dish easily towers above comparable dishes with its colorful addition of peppers and mix of spices. After having it, I have to think twice before consuming the all-too-often bland southern cabbage from most local establishments.
When asked if I wanted to try the jerk chicken, I hesitated. It's no secret that I've never been a fan of the dish. Overwhelming spiciness and heat are the primary memories I have of the Caribbean staple, but Calypso Mama is about to change that.
"It'll take about ten minutes because we cook it to order," is the reply when I finally say yes. When the dish arrives, I take a deep breath and cut a small piece. The first bite brings to mind an image of a backyard cookout in Trinidad. The flavor is a combination of Spanish, West Indian, and African inspirations and is best described as "sweet heat". It isn't overpowering (prepared to the customer's spice preference) but it doesn't water down a dish known for its punch. Never again will I say that I don't like jerk chicken!
Before it arrives at the table, everything from the pepper shrimp to the chicken, goat, and oxtail undergoes a thorough cleaning, a point that Donna and Junior take great pride in. As I observed the process up close, Donna detailed how chicken coming in from the supplier is prepared. "We use a solution of salt water, lemon, and vinegar to cleanse the meat. Excess fat, and other impurities are removed. A thorough rinse takes place and then the meat is ready for the marinade."
Nearly every meat in Calypso Mama has its own unique marinade made from the peppers, vegetables, and spices that define the Caribbean. When I asked for the opportunity to taste the spicy pepper marinade, Junior made a point of not placing the saucer in my hand, opting to place it on the table instead. "Never put hot peppers directly into the hands of your friend because it'll create a conflict," he quipped.
As the visit came to an end, Donna offered her famous sorrel punch, a popular Caribbean drink that can often be mixed with juices of other fruits. We talked about the joys and challenges of business ownership and what it was like to open a business on the often-overlooked Phillips Avenue corridor.
"We are delighted to be here and chose this location over a few others. The neighborhood and community have reached out to us and our desire is to reach back out and invest in them." She also shared plans for a Caribbean-style carnival event in the summer of this year where they hope to invite other restauranteurs and community artists to put on a family-friendly event for the entire neighborhood.
The owners and staff of Calypso Mama are taking it slow. Open on Wednesday-Sunday, they have a daily buffet that consists of their standard items, like stewed and curried chicken, rice and peas, curried potatoes, cabbage and more. Made to order meals like pepper shrimp, jerk chicken, goat, and oxtail round out the menu.
Be sure to check out the roti wrap, traditional Caribbean street food, featuring a homemade wheat tortilla stuffed with your choice of meat and veggies. Their catering operations serves everything from family and community gatherings to weddings. An event space adjoining the restaurant is available for booking as well. They have a recipe for success and Greensboro's food scene is richer for it.