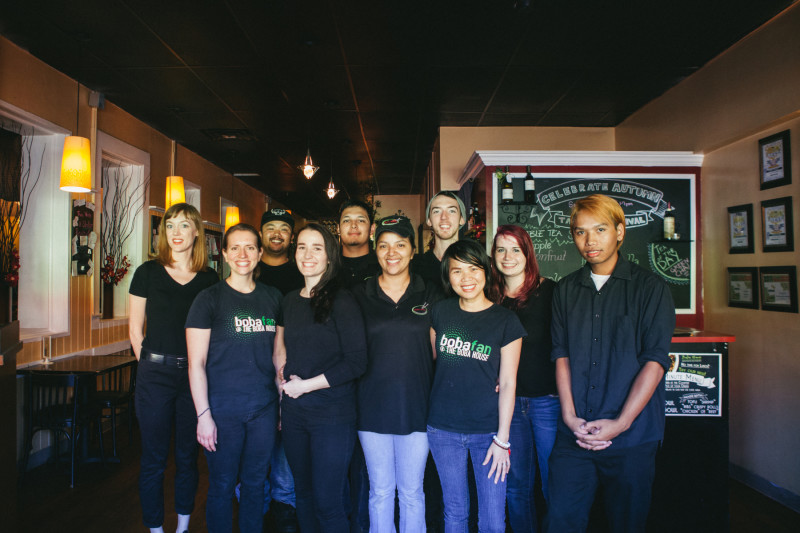 If Kieuanh Ho's first concept for Boba House had happened, it might not still be here today. When she and her then boyfriend (now husband), Kiet Nguyen, were brainstorming business ideas in 2002, bubble and boba teas, so popular in Asia, had just come to the United States. But wanting to locate on Tate Street by UNCG, would a tea house right beside Tate Street Coffee House work? Thankfully, they decided the answer was no and moved on to option two – a vegetarian restaurant which could serve boba tea.
People have asked over the years how she had the courage to risk a new business on such a niche market as people interested in eating vegetarian and vegan dishes. "We were young and passionate," she said, laughing. "And we didn't really have anything to lose." But she's quick to say they didn't open Boba House to become rich or to fund their retirement. They wanted to do something that brought value and something positive to the lives of their customers and to the lives of their staff.
With an interesting blend of Buddhism and her UNCG business degree, she credits the success and the longevity of Boba House to her staff, who she speaks of with great respect and affection. "You're at work for a lot of your waking hours," she explains. "It's important to me that my staff feel comfortable and happy. I'm always asking them, 'How are you? What can I do for you?'" Each day the staff at Boba House sits down for a family style meal at the end of every lunch and dinner shift, eating food prepared by the kitchen for them.
The caring and compassion that Ho shows to her staff, she expects to be shown by them to their customers. When hiring, she looks for people who can make connections with others, who enjoy people and are considerate and helpful. "I always say – you can't train someone's attitude. You can teach pretty much everything else, but they need to start with a positive attitude."
This formula for hiring and training seems to be working as far as customer retention is concerned. After 12 years in operation, Boba House now has a second generation of regulars. Over the years they've seen couples have first dates at the restaurant. "You see a young man trying to impress his girlfriend who's a vegan by bringing her here," she smiles. Those first dates have turned in to engagement parties thrown in the restaurant or weddings catered by them. "And then they come in, and she's pregnant… and the next time we see them they have their baby with them!"
Ho and her husband have started their own second generation, too. Parents of three young sons, Ho runs Boba House and her new restaurant Noma with partner Kelly Casteen while her husband runs his own real estate business with partners. Despite the demands of small business ownership, Ho still finds time to make her children's Halloween costumes each year. Over the past several years, they have competed successfully in the Ghoulash costume contest downtown – so successfully that she's afraid her sons have come to expect one of them to win or place each year.
The busy parents are helped at home by Ho's mother who brought Ho and her two siblings to the United States from Vietnam as refugees when Ho was 11 years old. They spent about a year in a refugee camp in the Philippines, where they were on hand to witness the Mount Pinatubo eruption in 1991. She said she didn't know to be afraid when she saw the giant cloud in the distance. Instead she wondered at the sight of it "…like a giant cauliflower in the sky."
She attributes her hard work ethic to her mother, knowing the sacrifices she made to get their family to the United States. "She still has nightmares about Vietnam," Ho explains, speaking of her mother, who lived through the Vietnam War and lost family members in the conflict. "She has nightmares that we've missed the plane. That we didn't make it."
Ho's memories of Vietnam, which she's revisited twice since leaving, are more pleasant. She grew up in a small village with dirt roads, in a house with a palm leaf roof, with pigs, pineapple plants and banana trees in the yard. The freshness of the produce available in Vietnam is one of the things she savored when visiting there.
Finding produce for Boba House has become easier, Ho said, since the opening of larger ethnic grocery stores like Super G and Li Ming's. She loves the produce sections there and has a specific technique for finding the freshest fruits and vegetables. "I'm like a little puppy, " she says, "Sniffing…sniffing… People see me and think I'm crazy. But that's what you have to do – smell them!"
The vegetable-full and meat-free dishes at Boba House offer customers an opportunity to enjoy what Ho refers to as a "gentle transition" to a more compassionate way of eating. It was envisioned by her as a place for everyone from people sampling vegan or vegetarian cuisine for the first time to long time vegetarians who want to be confident of eating a 100% meat-free meal.
Her staff can help the timid or unsure to find the right choice for them off the menu. "The staff will try to meet the customer's needs instead of trying to sell the menu…maybe look for something familiar rather than something extreme."
"At the end of the night," she said, "I feel like we've done something good, saved a few lives. Our customers had a nice meal and didn't harm any animals." Not at all preachy or judgmental about her own vegetarianism, Ho explains, "I'm a human being, and I can make a choice to help someone suffer a little less. But it's your own choice to make."