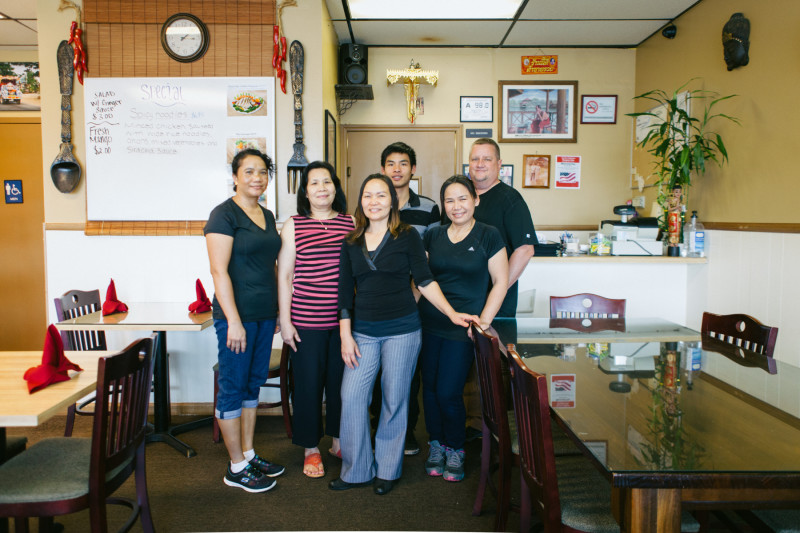 About three years ago, a friend of mine sat down at a meeting with a surprised look on his face. "I'm sorry," he said with a subtle shake to his head, "but I just have to tell you something. The lunch special at Bangkok Café is the best thing in town right now. I've eaten there three times this week."
I finally took my friend's advice and stopped by for a lunch special. The menu has all of the familiar fare — Pad Thai, Chicken Satay, Pad Pik Pow, a variety of curries and a celebration of cashews. I also was pleased to find my favorite, Pad See Ew, on its dinner menu. For my first venture, I took a page from my roommate — who is from Vietnam and once co-owned a Japanese restaurant — who tends to judge most places by how well they do their pineapple fried rice.
I wasn't disappointed.
It was only when I returned a week later, however, that I really started to get to know the family who keep things moving at Bangkok Café. At the center of Bangkok Café are sisters Ad Griffin and Yim Thepsoumane. Ad and her husband, Jeff, bought the restaurant in 2013 from Thepsoumane, who had owned the space since 2005 and still manages the front of the house and bustles between the dining room and kitchen. Even though she's the younger sister, Thepsoumane also carries the narrative of the restaurant and her family's connection to food.
Their story is printed in their menu. The sisters' approach to food is influenced heavily by their family — especially their mother. They grew up on the edge of northeast Thailand, in a small town on the Mekong River. From the front porch of their mother's home, they can look across the river and see the neighboring country of Laos. Their food is influenced not only by their roots in Thailand, but also their proximity to Laotian food culture.
Thepsoumane and Ad Griffin came to the United States from Thailand in 1993 and 2005, respectively. Thepsoumane had previously worked for Tyco Electronics, but she switched over to restaurants after moving to Greensboro. When she was ready to start a family in 2005, she thought owning her own business might give her more time to spend with her children. I asked her how that worked out for her, and she laughed.
Nevertheless, she bought the Bangkok Café in 2005. Shortly thereafter, she asked her older sister if she knew how to cook. "Yes, yes. I'm a very good cook," Ad Griffin assured her. But Thepsoumane quickly learned that while Ad Griffin was an excellent cook for two people, getting up to speed on feeding an entire restaurant of people took more time. The two laugh about these stories much in the same way that my sister and I banter with each other, all in good fun with a hint of truth.
The community around these sisters has continued to grow, especially as Ad Griffin became more skilled and experimental in the kitchen.
While she inherited much of the current menu from the owners before Thepsoumane, she began playing around with recipes inspired by her family as well as her own searches through cookbooks and the internet. She now regularly features specials, which they post on the message board in the restaurant as well as its Facebook page.
The sisters also take great pride in cooking food to order, which has become a great way for the sisters to connect with the many Thai and Laotian families in Greensboro.
Customers from Thailand and Laos get special treatment with their orders — sweet, sticky rice, lots of vegetables, smelly fish, strong herbs and very spicy. (Pro tip: if you want your food really spicy, and I mean really spicy, order it "Thai hot." They'll take you there.)Although the sisters are at the center of daily operations at the Bangkok Café, they have an extensive family tree behind the scenes. Thepsoumane's daughter Heather has basically grown up at the restaurant, Ad Griffin's son Oat has worked there for almost four years and their sister-in-law is also part of the ranks.
Perhaps one of the best stories comes from Jeff Griffin, Ad's husband since 2012. Jeff had been a regular at the Bangkok Café for several years — he's a big fan of the Pad Thai. Jeff and Ad also became big fans of each other and eventually married in Thailand."So you started out as a fan and became part of the family?" I asked him. "I guess so," he said.
or many restaurants and other food-related enterprises, it's easy to invoke the "family" metaphor. Whether or not they actually live up to that metaphor, however, is often a mystery.
There's a certain sincerity when the Griffins and Thepsoumane talk about family at Bangkok Café. Jeff tells a story about seeing some of their customers out and about in Greensboro, and he mentions that Ad will always correct him, saying "no, not our customers. Our cousins."
I guess that's part of the beauty of the sisters' story. They really mean it when they say that their customers are family. They laugh at how people come in every day and every week and order the exact same thing. They talk about their children growing up in the restaurant. They take great pride in connecting with other Thai and Laotian families in Greensboro.
We can all start out as fans and end up as family.