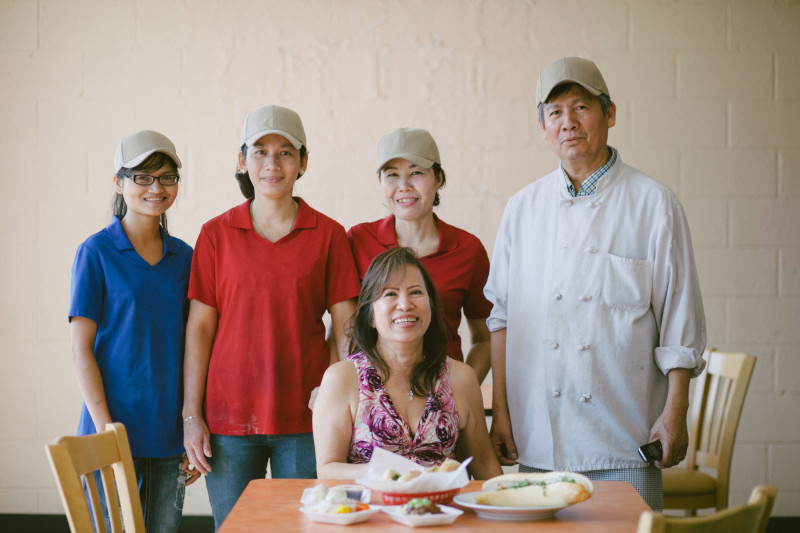 Welcome to Banh Mi Saigon Sandwiches & Bakery. It's a simple process to dine here. Just step to the counter, and order from a menu that hangs from above. A lot of customers place their orders by simply saying, "Number four." Or "Number two."
There are a few tables for diners who wish to stay, but most take their sandwiches to go. The service is quick and efficient. You could think of it as a Vietnamese version of Subway or Jimmy John's. But that would be a disservice to Bánh Mi owners, Kim and The Le. Their specialty is traditional Vietnamese sandwiches, or Bánh Mi. They are prepared to order, with French baguettes that are baked right there. They are filled with barbecue chicken, pork, tofu or thinly shaved pate, and topped with fresh cilantro, sliced jalapeno, shredded carrots and slivers of mild onion.
Business is steady throughout the day, but weekends are busiest. If you venture there on the weekends – that's when you'll see that this is more than just a sandwich shop. This is where you're going to find authentic Vietnamese food, and it draws a lot of Vietnamese customers. There are rice cakes, topped with ground dried shrimp and served with lemon fish sauce. And my favorite - sticky rice with fresh young coconut and sesame seeds. The rice is vibrantly transformed with food coloring – orange, yellow and green. Another personal favorite is Bánh Bao, or steamed buns, filled with flavorful meat. The bun is Pillsbury white, and its texture is soft and doughy. Rich, homemade peanut sauce accompanies the fresh clear spring rolls, made fat with vermicelli noodles, shrimp, lettuce and cilantro.
I also recommend the sticky rice with roast pork and Chinese sausage, topped with scallions. I took mine home, and ate it the next morning with an egg over easy. A popular noodle dish is barbecue beef and meatloaf, with mint and lettuce over vermicelli. It's served with lemon fish sauce.
Kim Le also bakes an array of cakes – spongy coconut cake that looks like it should taste like pistachio, but doesn't. It's the food coloring. Tapioca cake with coconut milk is a creation of layers of tapioca, yellow beans and coconut.
"I like to make everything beautiful, " she says. "I want it to be like art. If it looks messy, I throw it away. Every single item - it has to look beautiful."
If you are adventurous, check out the desserts in the display case. It holds an array of tapioca desserts. Tapioca with coconut. Tapioca with seaweed and yellow beans. Tapioca with sweet potato. Or rice pudding with beans. The beauty in these offerings may appear a bit murky to those uninitiated in traditional Vietnamese desserts. But thereÂ's always beauty in small batches of traditional, homemade foods. Even something as trendy as Kombucha would have been questionable a decade ago.
Kim's love of Bánh Mi began as a child. Her father, who worked with the French in Vietnam, taught her how to bake their traditional baguettes. He used to cook the sandwiches at home. Kim and The Le came to the U.S. in 1985, landing in Boston, MA. Two years later, they opened a sandwich shop there. But they moved to Greensboro in 2009 because there is a large Vietnamese community here. They opened their High Point Road sandwich shop the same year of their arrival. Kim has been cooking professionally more than 25 years, but she sees it as more than just her job.
"I love to cook," she says.
What is Bánh Mi? The original Bánh Mi was a French baguette with butter, ham or pate – your typical traditional Parisian sandwich. But when French rule ended in 1954, the Vietnamese customized it with their own flavors. Butter was replaced with a mayonnaise-like spread. They filled the baguette with cured hams, pickled vegetables, fresh cilantro and chiles.
Bánh Mi was introduced in the U.S., and throughout the world, following the Vietnam War. Vietnamese refugees, like the Les, opened small businesses, selling their sandwiches.