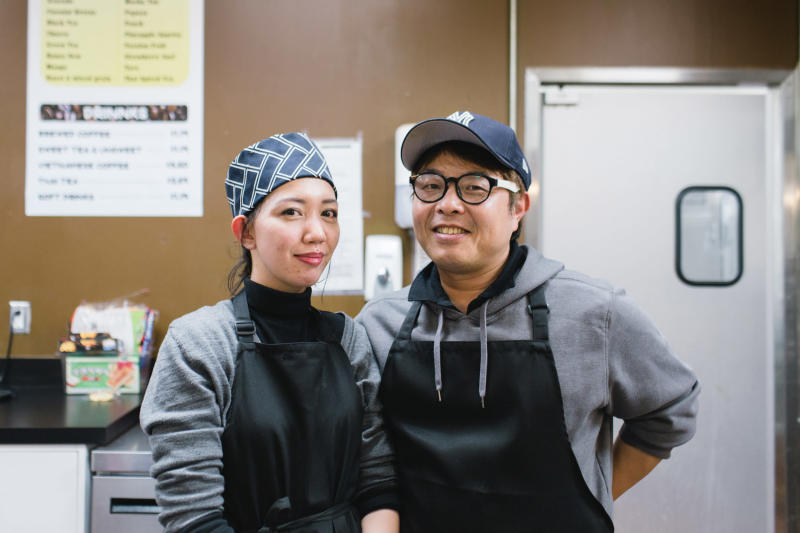 Should you find yourself hunched over a steaming bowl of ramen at the Asian Kitchen, don't plunge into it right away. Allow yourself to take the time to let the steam dampen your cheeks. Close your eyes and slowly inhale the scent of the rich, pork-based broth. Dip your chopsticks to the bottom of the deep bowl, and try to grab both pork and noodles - a balanced bite of soft pork and noodles al dente. Then take the spoon and fill it with broth and one half of the soft-boiled egg. Your tongue will feel the density of the golden yolk, nestled in the tender lap of soft whiteness.
But before you get too drunk on bone broth, know that there's a story behind that bowl of ramen. And it's a pretty good one. It's a love story, really. A story of love lost. Then love regained. And, ultimately, it was love that brought a family across the ocean to a city they knew little about.
Inside the Super G Mart, the Asian Kitchen doesn't look all that different from the other iterations of the restaurant. It's switched hands a few times through the years. Most recently, its specialty was pho, Vietnamese noodle soup and Bubble tea - a drink offered in many flavors, enhanced with tapioca pearls. From the customer's side of the counter, Asian Kitchen doesn't look that much different.
Pho - offered in five different variations - is still on the menu. But its current owners - Jaesuk Yu and Jennifer Saludario bring their own flavors to the table. Yu, who is Korean, also loves Japanese food. Especially ramen. Saludario, who is from the Philippines, adds her native adobo dishes, as well as some traditional Chinese-Filipino snacks like steamed Siopao pork buns. The couple, who moved to Greensboro with their teenage son and toddler daughter about 18 months ago, had never cooked professionally before. When they took over the restaurant about 10 months ago, they did so equipped mostly with their love of food and desire to work as hard as it took to succeed.
It's easy to talk to them. Not only are they extremely nice, but their English is also really good. Jaesuk studied at a university in Sydney, Australia for four years. When he returned to Korea, he worked for a company based in Los Angeles, which brought him to L.A. several times. Then he got a job with SK Group, one of the largest conglomerates in South Korea. Its largest businesses are mostly involved in the petroleum, chemical and energy industries. But it also has the country's largest wireless mobile phone provider, SK Telecom. That's where Yu landed. He oversaw corporate strategies for its Internet operations. He was the typical company man. He worked long hours and traveled frequently. He's been to Japan nearly 50 times - that's where he developed his love for Ramen. He's tried many different styles of the popular noodle dish.
"In Japan, that's the thing to do - eat Ramen," he says. "I used to dream to myself, (that) when I retire, before I get old - maybe I'll have a ramen shop."
Whenever he traveled, Yu liked to discover the best spots to eat. He's eaten pho and kebabs in Sydney. Ramen and sushi in Japan.
"I have traveled to many countries and tried different food, from street food to Michelin-star restaurants," he says.
After ten years of marriage, Yu's wife, Jongju, was diagnosed with pancreatic cancer. When she died, he says he sank into a deep depression. He left Korea with their young son, Junho, for a fresh start in Manila, Philippines. He had only vacationed in Cebu, another island in the Philippines, but he knew it was an English-speaking country and thought they might adapt more easily there. He initially planned to stay just a couple of years, then return to Korea. For two years, he focused solely on taking care of his son. Then a friend led him to a job with Proctor & Gamble in Manila. And that's where he met Saludario, a petite woman with an easy smile. They were co-workers. Yu and his son ended up staying in Manila five more years.
Saludario didn't know much about Korean food, but she did know a lot about her husband's culture through popular Korean television dramas. Her nieces are also fans of Korean pop, or K-pop music. And she learned to cook Korean food well enough that her sisters say it's better than her Filipino food.
The family moved to the U.S. for Junho. Yu said his son's educational opportunities would be limited in the Philippines because he is Korean. They could have returned to Korea. Or really take a risk, and come to the U.S. They chose the U.S. By this time, they had a daughter too, Jiho.
Yu had visited L.A. enough to know that he didn't want to live there. He preferred not to raise his family in an urban city. He was also drawn to the east coast because of its universities. When he saw Greensboro's location in the middle of the state and its proximity to UNC-Chapel Hill, Duke and N.C. State universities, he was sold.
Although they'd never run a restaurant before, Saludario and Yu are open to learning by trial and error. They're not averse to risks or fresh starts.
"All my life, I was working in an office," Yu says. "This is very different. It's not like cooking at home or cooking for your family."
Their customers - mostly supermarket shoppers - are also very diverse. They are from Africa, the Middle East, Asia and Latin America. Yu and Saludario are learning what their customers like. And mostly what they like is noodle soups. Ramen and pho.
Yu calls his restaurant a "humble place." While it's true - that their menu isn't fancy, when you order the pho or the ramen, or even the express dishes, which are like daily specials - you taste the authenticity of their hearts. Their openness and humility. And their hard work. Its a nourishment that satisfies the soul as well as your belly.
For all the uncertainty that comes with being in unfamiliar territory, Yu seems content. He works alongside his wife. Their daughter, Jiho, is as much a fixture at the restaurant as their paid staff. And Junho likes to talk about food and cooking with his dad. Yu's work now involves his family.
"Now I have a new hope and dream with new family and friends," he says.