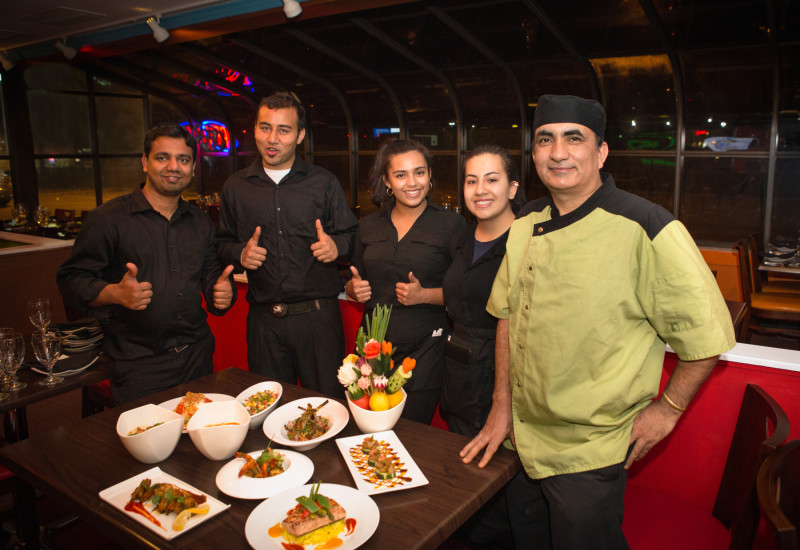 "You are our guest," almost the first thing uttered by co-owner Rakhi Thapa as I entered Agni Indian Kitchen & Bar.
It's difficult not to notice that Agni occupies a building that used to house a fast food restaurant, situated inconspicuously off Highway 68 near the airport. The tell-tale signs being a drive-thru window (that's now covered over) and a greenhoused seating area facing the street. But, upon walking across Agni's threshold, you forget all that.
Rakhi and friend and co-owner Mamata Jha greet me at the elegantly lit bar near the entrance. I see a fully stocked shelf of liquors, beer, and wine. As we turn to Agni's floor, I see the tables set in semi-fine dining decor. Rakhi and Mamata are strikingly beautiful women from Nepal and South India, respectively. They are both a little shy, but so incredibly generous, offering me mango lassi and masala chai.
Rakhi was living in California's Bay Area before coming to Greensboro in search of the opportunity to open a restaurant: "The Bay Area is nice, but so expensive." "I love it here, actually" says Mamata. "It's smaller and seems very united to me. It's just like in India, when you do something, everyone knows! People here are very connected, I think. I like it!"
Rakhi and Mamata met at a couple of parties in Greensboro. Before coming to the U.S. (Iowa specifically) Mamata was living in Thailand while her husband was attending graduate school there for civil engineering. The two decided to partner on what would be Agni, Sanskrit for "fire." They decided on the name Agni because of the importance of fire in transforming raw food.
One of the strongholds of Agni is its mastery of including complex dishes on the menu that appeal to a wide audience of people, especially in the Desi community (people from South Asia). Agni abstains from using beef in any of their foods as most Hindus follow a dietary restriction that reveres cows as sacred and a symbol of life.
Raised as a Muslim that follows strict halal (food prepared by Islamically suitable guidelines), I find it difficult to find restaurants that are halal and also taste good. But, all of the meat at Agni is halal, which allows us Muslims to breathe a sigh of relief as we enter the restaurant because everything on the menu is a possibility for consumption.
When you come to Agni, you'll see all kinds of patrons, from Greensboro natives to newcomers from all over, particularly South Asia. "Especially the young, single South Asian men," says Mamata. "These young men come to Greensboro to work in the offices near by, but they come here alone. They are new here. Some of them don't know how to cook. They're eating fast food. They're missing home. And then they come here and it's like, 'Aaahh!' it's like being at home. We are helping them in this way, we are touching them. We are so proud of that."
Not only is there a multitude of items on the menu such as vindaloo, an aromatic spicy curry made of red vinegar, but Chef Rajan is open to making anything for guests. He is a gregarious man from Nepal who has cooked in restaurants all over the world, including Dubai.
We discussed having Chicken 65 on a future menu as it is a much appreciated Desi staple and is rumored to have the mythical reputation of boasting 65 ingredients. I don't think anyone actually believes that number, but it tastes like it, so no one actually cares. Within 30 minutes of discussing the dish, Chef Rajan brings out a beautifully plated Chicken 65 that made my eyes water from the spiciness and delectable perfection of its taste.
My mother, who was raised in Pakistan, had one request of my visit to Agni: Bring home aloo samosas (potato and vegetables fried and stuffed in a triangular dough). I am always reluctant to bring Desi food to my mother as she is a fantastic cook with over three decades of experience and tends to be a harsh critic on all things related to South Asian food. Dipping the samosa into imli (a tamarind-based chutney), she closes her eyes, "This is actually really good!" That's about as good of a compliment as you can get from her and I am now fully confident that Agni has passed the Desi litmus test.
Oh, to trade every fast food restaurant for a place like Agni. Let's hope this is a trend: Taking back our eateries!